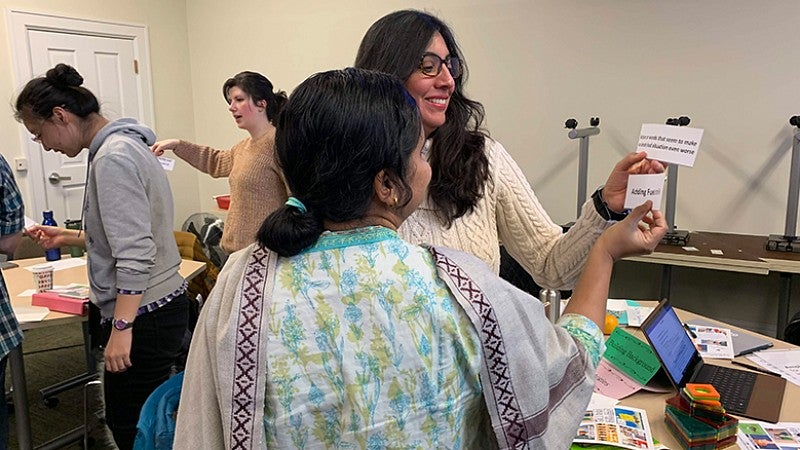 UOTeach prepares teacher leaders to have a lasting impact on the learning and lives of youth.
We welcome all applicants with demonstrated academic distinction, the disposition and passion for learning and working with youth, and a commitment to supporting equitable educational learning communities.
UOTeach is committed to addressing the need for increased bilingual bicultural candidates from diverse backgrounds and experiences.
UOTeach Curriculum and Teaching MEd program is for people pursuing their initial teacher licensure and a master's degree. UOTeach is ideal for candidates who aspire to pursue either elementary, middle, or high school careers.

The UOTeach Middle and High School program prepares teacher candidates in the following endorsement areas:
 
Embedded in the study plan for all UOTeach students is the English for Speakers of Other Languages (ESOL) licensure endorsement.

UOTeach partners with the Sapsik'ʷałá Education Program to help prepare students with the knowledge and skills to serve American Indians and Alaska Natives (AI/AN) in ways that promote indigenous self-determination through education.
 
Curriculum and Teacher Education (CTED) is for licensed teachers who are pursuing an educational master's degree. This program is ideal for candidates looking to advance their curriculum development and teaching methodology.

Licensed international applicants looking to get an Oregon teaching license apply to the CTED program.
Applicants interested in pursuing a Certificate in Second Language Acquisition and Teaching are encouraged to contact the SLAT program directly.
---
UOTeach Curriculum and Teaching Program Requirements
Have an equivalent to a Grade Point Average of 3.0 or higher
Have demonstrated work (volunteer or paid) with youth of the target age group
Elementary Applicants
Secondary Applicants
Graduate School International Applicant Resources
---
US Student Visa Admissions Process and I-20
1. Departmental acceptance decisions are sent to the Graduate School for approval, and then forwarded to the Office of Admissions for final processing.
2. The Office of Admissions verifies student records and demonstration of sufficient funding/financial support, then notifies the Office of International Student and Scholar Services (ISSS). 
Financial Documentation
The University of Oregon is required by US immigration law to obtain reliable documentation that an international student has financial resources adequate to meet expenses while studying at our institution.
Students are required to submit documentation that provides evidence of funding or support equal to the total estimated expense for one academic year.
Funds may come from any dependable source, including graduate employment (GE), scholarships, sponsoring agencies, personal funds, or funds from the student's family.
Documentation of GE appointments and scholarships may be in the form of an official award letter from the school or contract.
Documentation of personal or family funds should be on bank letterhead, or in the form of a legally binding affidavit of support.
Department letters with scholarships, awards, or GE offers should be forwarded directly to the Office of Admissions as evidence of full or partial funding at uoglobal@uoregon.edu.
The Office of Admissions and ISSS are responsible for reviewing financial documents and making the final determination as to whether or not the student has provided sufficient proof of financial resources.
3. The SEVIS I-20 coordinator then determines student immigration status and issues the I-20 or assists with the transfer of current immigration records.
---
International Student Scholarships
Study in the United States is a serious undertaking. To decide if it is the best option for you, consider carefully how it will fit into your long-term educational and professional plans.
Learn about financial aid, student visas, required tests, and explore resources. See the information about University of Oregon Graduate School international applicants.
Financial Aid Eligibility
Most foreign citizens are not eligible for federal student aid from the US Department of Education. There are, however, some instances in which noncitizens may be eligible for financial aid from the US federal government.
To establish financial need by submitting a financial resources form to the Office of International Affairs.
StudentAid.gov/eligibility/non-us-citizens — check with your country's government and with the University of Oregon's Office of Financial Aid to see what aid you might be eligible for.
EducationUSA offers in country college advising support to help you search for grants and loans.
College of Education Scholarship — International students are eligible for COE scholarships. Complete the common application to multiple, donor-supported scholarships by the February 1 deadline
University of Oregon graduate Global Corners scholarship 
International Cultural Service Program (ICSP) scholarship — ICSP students give talks, presentations, panel discussions, and performances as part of an effort to provide crosscultural exchange and educational service in the Eugene-Springfield schools and community groups.
---
Financial Resources/Jobs: 
UOTeach does not offer Graduate Employee (GE) positions. Students interested in pursuing GE positions elsewhere on campus can search for openings at the Graduate School.
The UO Career Center posts campus student jobs.
International students are encouraged to apply for work-study eligibility. Annually, the deadline for applying for work-study is typically April 15.
International students are usually eligible to work on-campus jobs on a part-time basis up to 20 hours per week while taking classes.
See International Scholar and Student Services (ISSS) for orientation, student F1 visa, and funding resources.
Contact Information:
International Student and Scholar Services
5209 University of Oregon
Eugene, OR 97403
541-346-3206
intl@uoregon.edu
The UOTeach program is a demanding two-year program typically condensed into one year, for economic purposes. Students attending fulltime will need to work limited and flexible hours.
Students with job restrictions should contact UOTeach to discuss the cost and time issues of attending part-time.
To learn more about Financial Aid Eligibility for Grad Students, contact the Office of Financial Aid at financialaid@uoregon.edu or call 541-346-3221.