Our research culture is field-leading and highly influential with a long tradition of translating research into effective models, methods, and measures that improve lives.
$48.8 M
total New Sponsored research funding in fy2020
89
Active research Awards Received in fy2020
47
Principal investigators in fy2020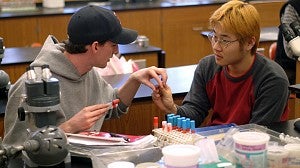 Social Systems Data Science
Our Social Systems Data Science (SDS) Network is dedicated to accelerating data-driven research and outreach efforts in the educational, behavioral, and social sciences.
We are home to 14 research and outreach units. Our faculty members in these units have a reputation for conducting innovative work in school reform, assessment, school-wide discipline and behavior management, positive youth development, family interventions, special education, early intervention, and culturally responsive educational practices. These programs help children and families of all ages—from infants and toddlers to adolescents and young adults. The work they do is making a difference in Oregon, across the country, and around the world.
43
commercial education products on the market right now
29,000+
schools use our Positive behavioral interventions and supports Apps (PBISApps)
1 in 10
US Students were impacted by the use of The School-Wide Information System (SWIS)
Research and Outreach Units
Click on the titles below to learn about the research and outreach unit's current work, faculty and staff, community impact, and more.   
Oregon Education Science Laboratory