Our academics are rigorous, highly selective, and highly regarded.
Our graduates work in a number of professions where their impact touches not only the lives and futures of individuals, but also their families and communities. Your passion for education and for others led you here, and we will prepare you to be at the forefront of your field and help you shape the future.
No. 6
public college of education
No. 3
special education program
No. 14
best graduate school of education
Departments and Programs
Department of Counseling Psychology and Human Services
Department of Education Studies
Department of Educational Methodology, Policy, and Leadership
Department of Special Education and Clinical Sciences
Student Academic Services
Aiming to make student services more accessible, the SAS office is now a "one-stop shop" for students seeking undergraduate advising.
Our academic advisors, along with our scholarship, international, and graduate recruitment folks are now all housed in the SAS office.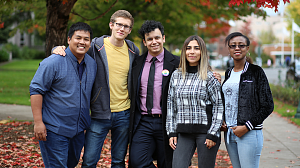 COE International Students
Our international student scholars are represented across nearly all of our undergraduate and graduate programs. 
5 Continents, 27 Countries, 102 Students.
We have International Students all over the world. 
Closing the Inequity Gap
Our inclusive class models create tightly knit communities of students who influence each other's success, and most students are involved in research as part of their program requirements. We have a culture that values diversity and promotes respect and inclusion. We produce scholars and practitioners who are prepared to make meaningful changes in our local, national, indigenous, and internal communities. Our graduates become leaders in education and human sciences who change lives and improve outcomes for individuals and systems.
Diversity, Equity, and Inclusion in the College of Education
Our college is dedicated to creating an inclusive environment that celebrates the diversity of our undergraduate and graduate students, our faculty, our staff, and our partners. 
See our plans, activities, and opportunities.
Ready to Make a Difference
Number of degrees granted in 2019-20:
224
bachelor's degrees awarded
217
master's degrees awarded
39
doctoral degrees awarded
Scholarships and Funding
$740K
scholarship funding in 2020-2021
$112K
undergraduates scholarships
$480K
Masters scholarships
$111K
doctoral scholarships
We have a number of funding opportunities, both at the college and program level, that will help you to afford your education—from traditional scholarships to grant-funded positions, stipends, and service-pay-back programs.
We encourage you to explore all the different options and to apply even if you initially think you might not qualify. It is our goal to make our programs as accessible as possible to all who are interested.