Information Session   |   Research to Practice   |   Faculty Spotlight   |   Contemporary Values   |   Apply Now
About the Applied Behavior Analysis Program
The University of Oregon Online Master of Science in Applied Behavior Analysis (ABA) is designed to prepare clinician-researchers to apply the science of human behavior and learning to a variety of populations and settings with particular emphasis on meeting the needs of individuals with disabilities in educational, home, and clinical settings. Our Master's degree in Applied Behavior Analysis provides a strong foundation in the principles and conceptual underpinnings of ABA and the application of behavior analysis in multidisciplinary contexts.
The Master's degree in Applied Behavior Analysis provides students opportunities to gain supervised research experience in behavior analysis through a Research Capstone Project. This new academic program does not currently have an ABAI verified course sequence.
Core program faculty include Kimberly Marshall, PhD, BCBA-D, David Cosottile, PhD, BCBA-D, and Wendy Machalicek, PhD, BCBA-D. We also have additional affiliate faculty for research supervision. Please contact Kimberly Marshall, PhD, BCBA-D for more information. 
---
What can I do with this degree? 
Many students who are already teachers or paraprofessionals in education or working in another field may be interested in studying to receive their master's degree and certification as a behavior analyst. This career path will appeal to special educators, psychologists, behavior assistants, educational assistants, and others looking for a career change.
With a degree in behavior analysis, students will have a variety of employment and career prospects:
Work as a behavior analyst in schools, clinics, or other community settings
Teach Autistic individuals and those with intellectual and developmental disabilities
Improve health, fitness, and sports performance
Enhance quality of life and care services for seniors
Prevent and treat substance misuse and substance abuse disorders
 
Improve sustainability practices
Create systems level change in schools, hospitals, or business settings
Pursue a doctoral degree in education, behavior analysis, or a related field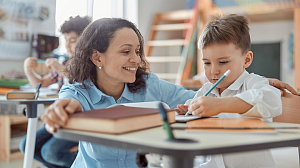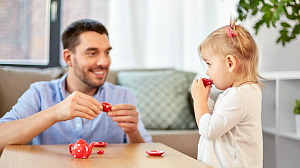 ---
Applied behavior analysis is a small but rapidly growing field. Our online program is an ideal way for working professionals to get the education they need to pursue a position in this quickly expanding area.
---
16.2%
Projected Growth of occupations held by behavior analysts (2016-2026)
1 of 2
Aba masters in oregon
---
Take the Next Step
Call us, email us, visit us or apply to the program. We're here to answer your questions about how the applied behavior analysis program can grow your future.
---
Information Session
Didn't get a chance to attend our virtual information session held October 27, 2022? That's ok, we've got you covered! Listen below as Wendy Machalicek, PhD, DCBA-D, Kimberly Marshall, PhD, BCBA-D, and David Cosottile, PhD, BCBA offer more detail on this online master's degree program.
---
The Student Experience
The Online Master's in Applied Behavior Analysis includes both synchronous and asynchronous activities each week. Each course is organized around an inter-teaching framework (Jimenez & Gayman, 2021) which allows the instructor to develop synchronous instruction that is responsive to the needs of the students. Students will work through their courses together as a cohort, allowing them to develop a support system and strong relationships with each other and the program faculty.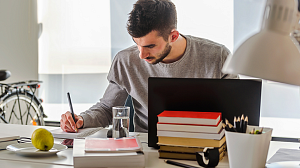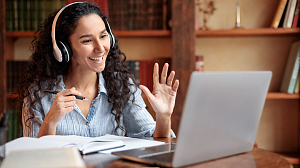 ---
Hands-On Experience
As many of the specific program task items include both knowledge targets and practice-related competencies, supervised experiences are integral to learning and mastering the content. Students in the Online Master's in Applied Behavior Analysis will complete supervised field experience guided by professors and clinicians with years of practice in the field of applied behavior analysis.
---
Research to Practice
The University of Oregon College of Education provides a rich research environment with 16 research and outreach units including Early Childhood CARES, and the HEDCO Clinic. A Capstone Research Project supervised by a core or affiliated faculty member will provide students with opportunities for originality in developing and applying ideas within a research context.
---
Faculty Spotlight, Meet Kimberly Marshall, PhD
Kimberly Marshall is a doctoral-level board-certified behavior analyst and the Applied Behavior Analysis Program Coordinator. Kimberly has extensive experience in program development and consultation for public school programs, and previously worked as a general education and special education teacher. She has presented nationally and internationally on topics including functional analysis, reading comprehension, and conceptual instruction in applied behavior analysis. 
---
Commitment to Inclusion and Social Change
The Online Applied Behavior Analysis program is committed to the preparation of behavior analytic professionals who reflect the multicultural context of the United States. We strongly encourage applications from potential students who identify as Black, Indigenous, or a Person of Color (BIPOC) as well as from potential students who are neurodiverse, have a disability, or are LQBTQ+.
Additionally, the Master's degree in Applied Behavior Analysis requires students to meet programmatic requirements related to diversity, equity, justice, and inclusion. These requirements will prepare students to be behavior analytic professionals who engage in reflective practices, cultural humility, neurodiversity affirming practices, advocacy for improving disparities in applied behavior analysis, and cross cultural applications of applied behavior analysis (e.g., with clients from different racial/ethnic backgrounds, linguistic and religious backgrounds, and gender and sexual orientation minorities, as well as neurodivergent persons and individuals with disabilities). Diversity, equity, justice, and inclusion competencies are embedded throughout the online coursework and in online professional colloquia to ensure access to neurodiversity affirming practices and the development of cultural responsiveness in the practice of applied behavior analysis.
---
Contemporary Values of Behavior Analysis
Please review the following resources that exemplify the contemporary values of behavior analysts including ethical and effective behavior change and position statements against conversion therapy and practices, restraint and seclusion and the use of electric shock in treatment of individuals with disabilities. These practices do not align with the Behavior Analysts Code of Ethics (BACB, 2022).
Position Statement on Conversion Therapy and Practices
Position Statement on Right to Effective Behavioral Treatment
Position Statement on Restraint and Seclusion
Ethics Code for Behavior Analysts
Association for Behavior Analysis International Position Statement on the Use of CESS
---
Accreditation and VCS
The ABA program will seek both ABAI Accreditation for the Master of Science in Applied Behavior Analysis and ABAI Verified Course Sequence (VCS) status for the embedded course sequence designed to meet the 5th Edition BACB content requirements.
Accreditation is a self-study and peer-review process in which a program completes a comprehensive review of the coursework, faculty, research, curriculum, experiential learning, and outcome measures of the overall program. Verification indicates that program meets the minimum coursework, content-hour requirements, and faculty standards for eligibility as a BACB VCS.
The program expects to apply for determination of its VCS status during Spring of 2022 and to apply for ABAI accreditation eligibility during Fall of 2024. At this time, a Master of Science in Applied Behavior Analysis student can apply for exam eligibility by submitting a Nonverified Course Content Attestation to the BACB which allows course by course determination of eligibility.
If you have questions about how this might impact your ability to be certified, please contact uoaba@uoregon.edu. 
---
Scholarships and Funding 
We provide a number of scholarship and funding opportunities in an effort to offer students support in pursuing their degrees and professional futures by removing as many barriers to those goals as possible. We use one common application that will automatically enter you into consideration for any and all scholarships for which you meet selection criteria.