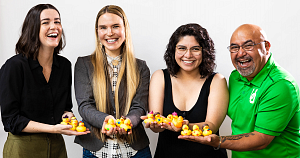 Student Academic Services
Student success is important in the College of Education and our advisors are here to help you! 
Whether you are a prospective student or an enrolled undergraduate student, our staff are dedicated to helping you achieve your personal goals, academic potential, and professional success. Located in Suite 130 in the HEDCO building, students can meet with academic advisors to explore majors, minors and certificate programs, plan course schedules, and much more. 
Appointment or Drop-in?
Appointments​​
Scheduled advising appointments usually last approximately 30 minutes.
Scheduled appointments are designed to address long-term planning questions and other detailed concerns with an advisor. 
For the following services, please schedule a regular appointment
Graduation plans
Discussion about adding a non-COE major, minor, certificate
Study abroad
Appointment Availability (in-person and virtual)
Monday - Friday: 9:00 a.m. – 4:30 p.m.
Schedule an Appointment
Call our Front Desk at 541-346-3405, or
To schedule In-Person Drop-In advising, please come to HEDCO 130
Drop-In Advising
Drop-In advising appointments usually last approximately 15 minutes.
Drop-in Advising Appointment Goals
Fall term schedule planning and schedule checks
Spring term progress
Basic info about a COE program, major, certificate, minor
Dual-enrollment form
Drop-in Availability (in-person and virtual)
Drop-In Advising Hours During Fall Term Initial Registration
Friday, May 20, 10:00 a.m. – 4:00 p.m.
Monday, May 23, through Wednesday, May 25, 10:00 a.m. – 4:00 p.m.
Join our Queue for Drop-In
Visit our Front Desk in HEDCO 130
Advising Resources
The following resources are available for students to use any time to help prepare for advising appointments:
Date:
May 7, 2021
 
May 17, 2021 to May 26, 2021
Activity Deadline:
Course offerings for Fall 2021 available
Class Schedule
List of courses for specific terms (class schedules for upcoming terms are published during week 5 of the current term)
GPA Calculator
Estimate how courses that are in progress affect your GPA
UO Catalog
Lists of major and minor requirements
UO Petitions and Forms
Various online petitions and forms, as well as submission instructions (varies between course late add petitions, refund petitions, etc.)
UO Navigate Student
Schedule an appointment with an advisor online using Navigate. Access Navigate from your desktop or download the app from the Apple Store or Google Play. You can also view your class schedule, holds, important events, explore majors and careers, and more.
Scholarship Award Program

Andrea Olson, Associate Director Stewardship Award Program and Board Relations, andreao@uoregon.edu,
Phone: 541-346-5943, Office: 130 HEDCO Education Building
As the administrator of programs that advance donor stewardship activities and board relations, Andrea's duties include scholarship program management, donor recognition, donor relations, and fund management.
Undergraduate and graduate funding is available.
Student Recruitment, Tours

Lisa Fortin, Director Events and Student Recruitment, lfortin@uoregon.edu, 
Phone: 541-346-1607, Office: 130 HEDCO Education Building
As the director of events and student recruitment, Lisa manages college-wide events as well as supporting COE recruitment initiatives. Tours of the UO campus and of the COE are available at the link below through the Office of Admissions. 
Drop-in tours of the COE for new or prospective students are available.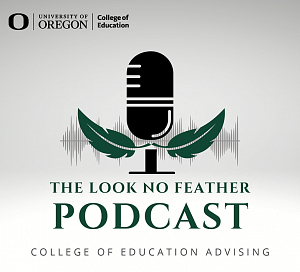 NEW Advising Podcast
Whether you are new to the flock or have already taken flight, the College of Education Look No Feather Podcast is here to guide you through your journey. Hear from current students, faculty, and staff about campus resources, community building, and opportunities for personal growth. In Look No Feather we will discuss everything from different College of Education academic paths, finding the right student organization for you, and how to build lifelong professional skills.
Find current and future podcasts on the following platforms:
Have an idea or want to be featured on a future podcast episode, contact us at: coesas@uoregon.edu.