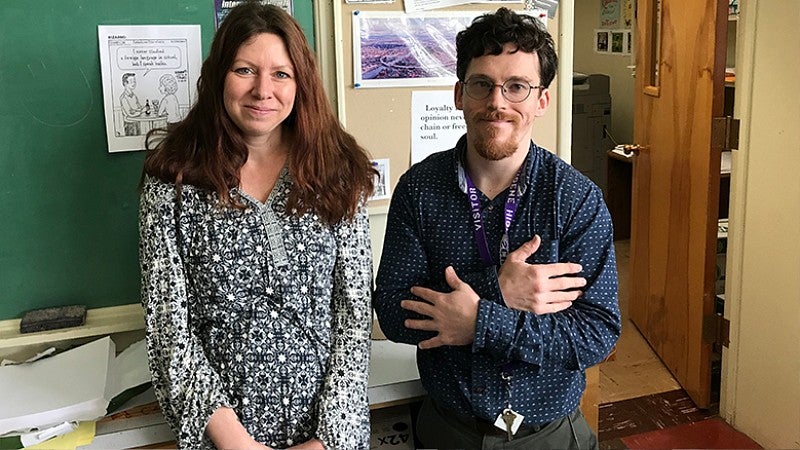 The language arts program is designed to provide preparation in methods that are specific to the teaching of reading and writing to students in grades 6–12.
Courses examine why and how teachers represent language arts concepts, how language arts provide students the opportunity to develop and practice literary reasoning skills, and instructional strategies for facilitating student engagement with a variety of culturally relevant and contemporary texts.
We research state and national language arts curriculum standards in the context of readings and discussions, presenting critiques and alternatives to standardized language arts curriculum.
---
Program Features
English Language Arts instructional methods courses with teacher experts
34-weeks of field-based, public-school practicum with outstanding language arts faculty and mentor teachers
An integrated and equitable approach to serving the diverse learning needs of students from different sociocultural communities
4-term post-baccalaureate program leading to a master's degree in education and licensure
In-program support for completing requirements for adding additional endorsements (of your choice) to your license 
Pre-Program Content Preparation for Admissions
Applicants applying for the English language arts endorsement typically come from:
English (including area/period studies)
Comparative Literature
Creative Writing
Linguistics
Journalism
Other humanities-equivalent majors that also build academic expertise in:

contemporary and traditional literature including American, English and World Literature
Advanced Written Expression
Applicants will be required to submit an academic preparation form listing courses from their undergraduate and post-baccalaureate transcript that align with state standards for academic preparation in English Language Arts. 
English Language Arts Academic
Preparation Form
---
Entrance Test Requirement
UOTeach requires passing the National Evaluation Series (NES), Oregon Educator Licensing Assessment (ORELA) English Language Arts test for admission.
Applicants are encouraged to take the English test early in the application process.
The test may be taken on campus or at any other testing facility available through NES/ORELA. The test may be taken multiple times, but admission cannot be finalized without a passing score.
English Language Arts #301 ORELA: Passing Score = 220
The Oregon Teacher Standards and Practices Commission (TSCP) will not accept any test outside of NES/ORELA for students from in-state licensure programs.
If you have questions or would like to petition the Oregon TSPC, email contact.tspc@oregon.gov.
Looking for Study Materials?
The UO Library has ORELA study guides. Materials can also be requested through the library Summit network system. From the UO website, go to UO Library and type Oregon Educator Licensure Assessments in the Library Search. If books are not available on campus, you can "Place a Summit Request" through the Interlibrary Loan (ILL). If you have questions, call 541-346-3055 or email ill@uoregon.edu. Books are typically available for six days.
Testing Fee Waiver
Students on financial aid can apply to NES for a test fee waiver. This process takes several weeks and must be completed prior to registering for the test.
Complete the fee waiver application and bring it to your Financial Aid office for process.
UOTeach does not require the Graduate Record Exam (GRE).