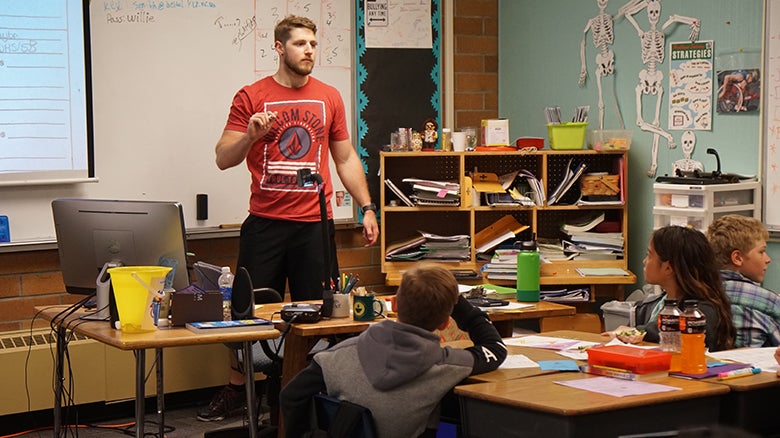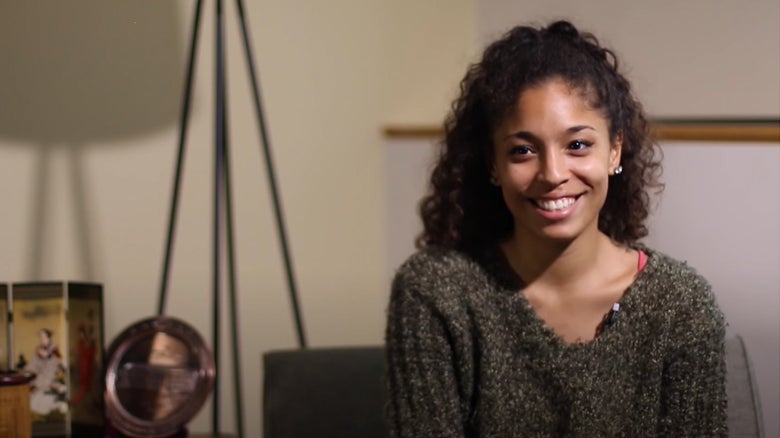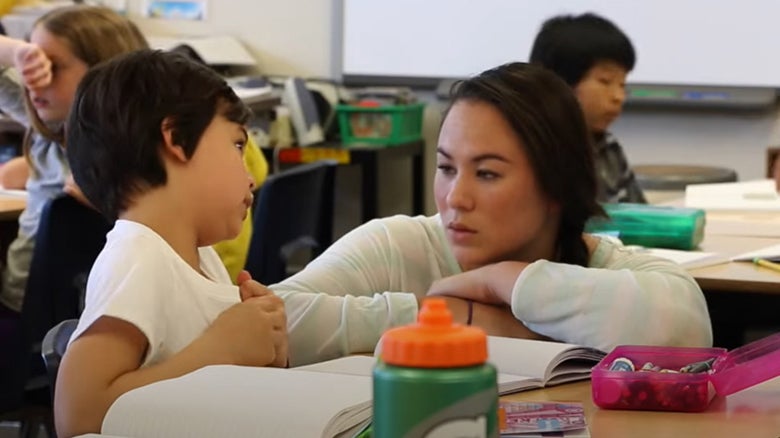 The UOTeach elementary program is a one-year postbaccalaureate master's degree program that leads to an Oregon preliminary teaching license with endorsements in elementary—multiple subjects and English as a second language (ESOL).
The program prepares you to be a fearless and competent math, science, reading, social studies, and language literacy elementary teacher.
Course work explores approaches to teaching and learning that promote teamwork, critical thinking, and culturally responsive pedagogies for early learners.
Applicants are encouraged, but do not need to have majored in an education bachelor's degree program to apply, but must demonstrate completion of math and physical education prerequisites prior to the start of the program.
Oregon requires passing scores on the NES/ORELA Elementary Education Subtest I & II for licensure. Applicants are encouraged to submit their Elementary ORELA test scores in the application process.
Education majors typically satisfy all prerequisite coursework and are eligible to waive select graduate courses.
---
The MEd Program of Study fosters a broad background in a variety of subjects, including science, math, and literacy because elementary teachers teach a wide range of subjects.
The program of study is sequential simultaneously completing master's and licensure requirements in both classroom and field experience.
Elementary Study Plan 
Most UOTeach students complete the program in one year; however, the program can be broken up into two years. 
MEd Requirements: Total Credits 63 (UO Ed Foundations majors 53)
Summer Term (8 weeks) — Total Credits: 15
| Course and Title | Credits |
| --- | --- |
| EDST 612 Foundations of Teaching and Learning* | 3 |
| EDST 616 Language, Power, and Education | 4 |
| EDST 620 Curricular Controversies in Mathematics and Literacy | 4 |
| LT 629 Foundations in Language | 4 |
Last Summer Session: Back to School Start of Field Placement (4 weeks) — Total Credits: 1
| Course and Title | Credits |
| --- | --- |
| EDST 627 Introduction to Supportive Learning Communities | 1 |
| Field observations: Begins Monday before Labor Day and continues until UO fall term starts. Linked to 15 hours a week of field experience. | - |
Fall Term (11 weeks) — Total Credits: 16
| Course and Title | Credits |
| --- | --- |
| SPED 511 Foundations of Disability I* | 3 |
| EDST 640 Methods: Constructing Meaning Through Literacy | 4 |
| EDST 642 Methods: Pedagogical Methods in the Humanities | 4 |
| EDST 643 Methods: Teaching Mathematics: Facts and Inquiry | 4 |
| EDST 606 Field Studies | 1 |
| Includes ten hours of field placement per week | - |
Winter Term (11 weeks) — Total Credits: 15
| Course and Title | Credits |
| --- | --- |
| EDST 628 Creating Supportive Learning Communities | 3 |
| EDST 645 Methods: Teaching Science: Detail and Discovery | 4 |
| EDST 646 Methods ESOL: English Language Learner Pedagogy for Elementary Classrooms | 4 |
| EDST 609 Practicum (supervised practicum, 16 hrs/week) | 4 |
Spring Term (11 weeks) — Total Credits: 16
| Course and Title | Credits |
| --- | --- |
| EDST 614 Cultural Context of Education* | 4 |
| EDST 617 Sapsik'ʷałá Education Program (1) |   |
| EDST 607 Student Teaching Seminar | 2 |
| EDST 609 Student Teaching (full-time student teaching) | 10 |
* Courses waived for UO Educational Foundations graduates
(1) Replacement course for candidates in the Sapsik'ʷałá Education Program
---
Completion Program of Study
Elementary Multiple Subject Endorsement
Complete required courses and practicum work
Pass NES/ORELA Elementary Subtest 1 & 2
Pass edTPA (elementary education handbook)
Pass field placement evaluation
ESOL Endorsement
Complete required courses and practicum work
Pass ESOL field placement evaluation 
Pass ESOL NES/ORELA English for Speakers of Other Languages assessment
Pass ESOL Work Sample