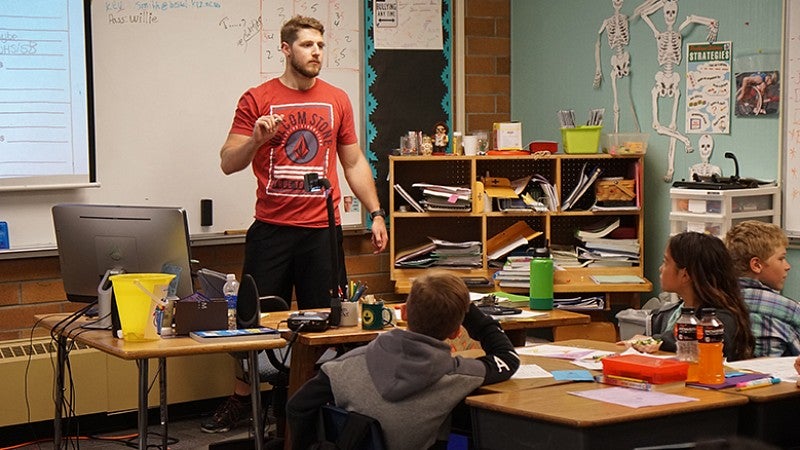 Program Eligibility
Applicants may come from any BA/BS major but must demonstrate strong math, science, and literacy skills as exemplified by providing an academic preparation worksheet and passing the state required Elementary ORELA Subtests I and II.
Hold a bachelor's degree (by start of program) with required academic preparation
Have a ≥ 3.00 cumulative GPA (preferred) or submit a GPA statement of explanation
Passing Elementary NES/ORELA subtest (by start of program, preferred)
Demonstrate experience working with school-aged children (paid or volunteer)
Qualify for Oregon TSPC criminal history clearance (processed during orientation)
Elementary Academic Preparation Form
---
Prerequisite Coursework
All prerequisites courses must be completed prior to the start of the UOTeach program. While prerequisite courses are available at the University of Oregon, equivalents are accepted. 
UO educational foundations majors and certificate program students have enrollment priority in the above EDST prerequisites, nonmajors can register after the first two weeks of registration. Check the UO Class Schedule for details.
---
Elementary NES/ORELA Subtests I and II
Oregon requires passing Elementary Education Subtests I and II scores for licensure.
UOTeach prefers that all applicants submit passing subtests prior to the start of the program. However, some applicants will be admitted pending passing scores.
 NES/ORELA Elementary I (reading, language arts, and social sciences) — passing score is 220
 NES/ORELA Elementary 2 (math, science, arts, health and fitness) — passing score 220
NES/ORELA Subtest study guides are available online and at the reference desk in the UO Knight Library. You can also use the Oregon Education Association Overview and Content Resources for ORELA Elementary Education Exam.
Test Fee Waiver
Students on financial aid can apply to NES for a test fee waiver. This process takes several weeks and must be completed prior to registering for the test.
Complete the fee waiver application and bring it to your Financial Aid office for authorization, and mail into NES for processing.
NES/ORELA registration and information 
UOTeach does not require a Graduate Record Exam (GRE).