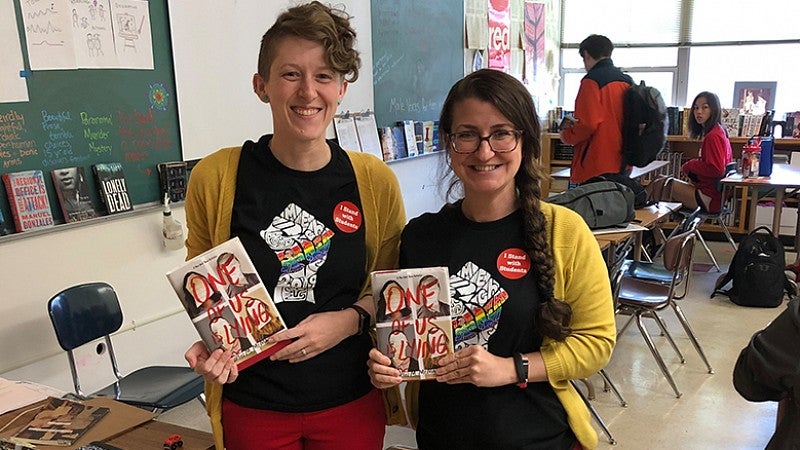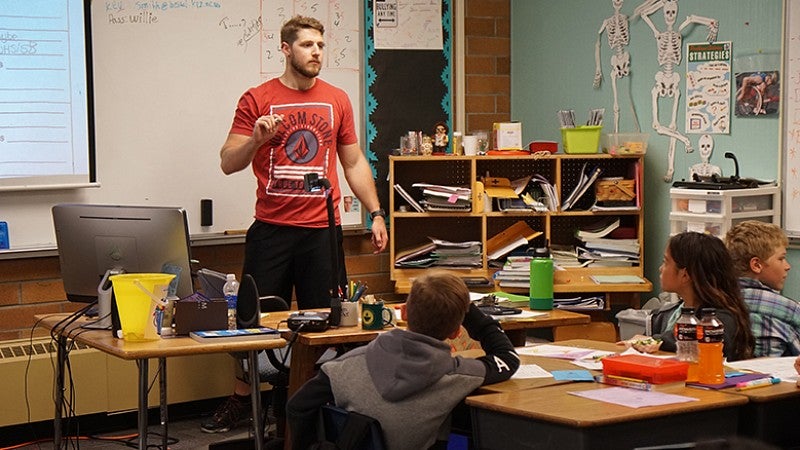 We aim to produce scholars and practitioners who create meaningful change in local, tribal, national, and international systems, educate and support students in the adoption of critical humanities and science-based practices, and accelerate multidisciplinary innovation within educational organizations.
UOTeach's middle-high school teacher licensure program provides a comprehensive master's degree in education and licensure for individuals interested in applying their academic study to teaching in middle and high school levels. 
See detailed application information for the Secondary Mid/High programs at https://education.uoregon.edu/uoteach/apply/secondary 
---
Secondary MEd Requirements — Total Credits: 62 
(Students with Educational Foundations undergraduate secondary certificate 52)
Secondary teachers specialize in areas of math, science, English language arts, social studies, or world languages, and also prepare to teach emerging bilinguals through an English for Speakers of Other Languages (ESOL).
UOTeach Equity Education Program Features
Content in Context: Instructional methods courses with teacher experts connect theory and practice to prepare you to enter the classroom as teachers.
 
Culturally Responsive: An integrated and equitable approach to teaching embedded across the curriculum that supports and enhances multilingual, multiliterate, and multicultural learning communities.
 
Field Experience: 34 weeks of progressive field-based school practicum with corresponding courses, university mentors, and cooperating teachers.
 
Career Services Workshops: Building your professional portfolio and district relationships.
 
ESOL: The ESOL endorsement is embedded into the curriculum.
---
Middle and High School Education Study Plan
The UOTeach study plan is dependent on subject matter specialization. Most UOTeach students complete the program in one year; however, the program can be broken up into two years.
Summer Term (8 weeks) — Total Credits: 15
Last Summer Session: Back to School Start of Field Placement (4 weeks) — Total Credits: 1
Fall Term (11 weeks) — Total Credits: 16
Winter Term (11 weeks) — Total Credits: 15
Course and Title
Credits
EDST 628 Creating Supportive Learning Communities
3

Primary Subject Methods:

4
EDST 686: Secondaty Part-Time Student Teaching (20 hours/week supervised student teaching)
4

Added Endorsement Area Methods or Subject Area Content Elective

Students who wish to get an additional endorsement in a second subject matter area will take an appropriate methods course for this purpose. Students not planning to add additional endorsements are able to take other EDST, EDLD, EDUC, SPED, and/or related content area 500/600 MA level courses from other departments.

4
Spring Term (11 weeks) — Total Credits: 15
* These courses are automatically waived for EDST Secondary Certificate graduates who took SPED 411, EDST 420, and LT 629 or an EDST Equal Opportunity in Education pathway courses. Students with similar prior coursework must submit a COE course waiver petition form to get a course waived. Of those, non-degree master's level work can be transferred using the Grad School (credit transfer form).
(1) Replacement course for candidates in the Sapsik'ʷałá Indigenous Learning Community 
---
Completion Requirements
Complete required courses and practicum work
Pass Content Area NES/ORELA test
Pass edTPA (handbook aligned to primary area)
Pass field placement evaluation
ESOL Endorsement
Complete required courses and practicum work
Pass ESOL field placement evaluation
Pass ESOL NES/ORELA English for Speakers of Other Languages assessment
Pass ESOL Work Sample