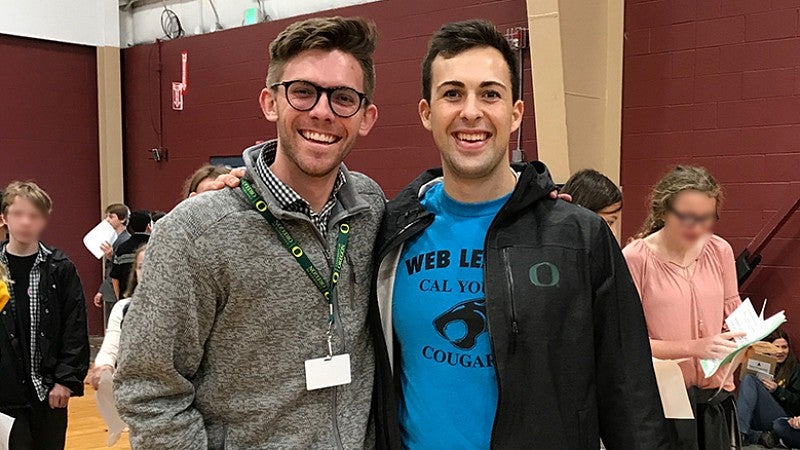 Evolve with the changing world of education - become the next generation's teacher. Pursue a career that will allow you to apply your passion for academics, community building, cultural awareness, grass roots cival rights activism, and give voice to those who are underrepresented.
UOTeach's one-year program aims to transform students with critical humanities, ethnic studies, and social science-based expertise into promising teachers adept at supporting and improving student learning.
This endorsement qualifies you to teach as a middle or high school (grades 6-12) social studies teacher. Today's Oregon public school social studies courses include subjects such as:
anthropology
law
civics
constitutional law
gender studies
global migration
government and political science
history
human geography
indigenous cultures
psychology
sociology
philosophy standards
world cultural geography
global politics
---
Program Features
Social Studies instructional methods courses with teacher experts
34-weeks of field-based, public-school practicum with outstanding social studies faculty and mentor teachers
An integrated and equitable approach to serving the diverse learning needs of students from different sociocultural communities
4-term post-baccalaureate program leading to a master's degree in education and licensure
In-program support for completing requirements for adding additional endorsements (of your choice) to your license
Pre-Program Content Preparation for Admissions
Applicants to the social sciences program typically come from a broad range of academic backgrounds including:
history
political science
general social sciences
international affairs/policy
global studies
area studies (e.g. Asia, Middle East)
ethnic studies
anthropology/sociology
economics
geography
psychology
---
Applicants will be required to submit an academic preparation form listing courses from their undergraduate and/or post-baccalaureate transcript that align with state standards for academic preparation in social studies (e.g. world/non-US history, US history, geography/cultures, govenment, economics, and political sciences). 
Social Studies Academic
Preparation Form
---
Entrance Testing Requirements
UOTeach requires a passing Oregon Educator Licensing Assessment (NES/ORELA) Social Science test for admissions.
Applicants are encouraged to take the social science test early in the application process.
The test may be taken on campus or at any other testing facility available through NES/ORELA.
Out-of-state applicants may take the NES/ORELA subject area test at a testing center near them. Oregon Teacher Standards and Practices Commission (TSPC) accepts NES equivalents from other states.
The test may be taken multiple times but admission cannot be finalized without a passing score. 
Social Science #303 ORELA - Passing Score = 220 (See ORELA test framework guide to better understand the Social Science test)
25% historiography and world history
25% US history
19% geography and culture
19% government
12% economics
Your official results are not required (although preferred) for the January application deadline. Scores obtained after the deadline should be emailed to UOTeach@uoregon.edu (link sends email) asap.
Looking for Study Materials?
The UO Library has ORELA study guides. Materials can also be requested through the library Summit network system. From the UO website, go to UO Library and type Oregon Educator Licensure Assessments in the Library Search. If books are not available on campus, you can "Place a Summit Request" through the Interlibrary Loan (ILL). If you have questions call 541-346-3055 or email ill@uoregon.edu. Books are typically available for six days.
Testing Fee Waiver
Students on financial aid can apply to NES for a test fee waiver. This process takes several weeks and must be completed prior to registering for the test.
Complete the fee waiver application and bring it to your Financial Aid office for process.
UOTeach does not require the Graduate Record Exam (GRE).