About the Family and Human Services Program
Are you interested in helping families grow stronger and healthier, building more just communities, and learning how to be an advocate and activist for more effective and equitable community social services? The Family and Human Services program in the College of Education is highly versatile. Students who pursue a degree in FHS help support the health and well-being of communities, families, and individuals through the development of prevention programs and through direct advocacy and delivery of services across the various levels of a person's ecology. Reflecting the diversity of the community and social service sector, FHS is interdisciplinary, drawing on the fields of psychology/counseling, social work, prevention science, public health, human development, and sociology.
The family and human services major leads to a bachelor of arts (BA) or a bachelor of science (BS) degree.
The bachelor of arts (BA) degree requires proficiency in a second language.
The bachelor of science (BS) degree requires proficiency in mathematics or computer and information science or a combination of the two.
---
Students who major in FHS must select one emphasis area in which to complete additional coursework beyond a shared set of core courses.
The Prevention Science (PS) emphasis prepares students for graduate studies and careers that will involve prevention-focused program development and evaluation. 
The Direct Service Intensive (DSI) emphasis prepares students for graduate studies and careers that will involve direct delivery of interventions.
---
What can I do with a Family and Human Services degree?
FHS graduates are prepared to enter the community and social service workforce, which, according to the Bureau of Labor Statistics is "projected to grow 14 percent from 2016 to 2026, faster than the average for all occupations, adding about 371,900 jobs. Most projected new jobs in this occupational group are in counselor and social worker occupations."
A degree in FHS is highly versatile. Many students enter the community and social service workforce immediately following graduation in occupations including:
case manager
youth outreach worker
family support worker
correctional/probation officer
residential care provider
juvenile court liaison
human services liaison
behavioral management aide
community outreach worker
eligibility worker
rehabilitation case worker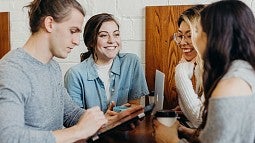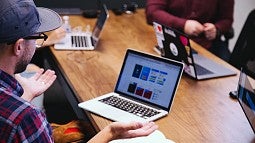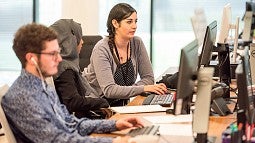 Some careers within the community and social service sector require at least a master's degree, and many FHS students pursue research and graduate studies in disciplines such as:
counseling psychology
couples and family therapy
prevention science
education
special education
early intervention/early childhood special education
agency management and leadership
social work
human development
family studies
---
15K Hours
of real-world experience gained annually by students interning at social service agencies and districts
---
Take the Next Step
Call us, email us, visit us or apply to the program. We're here to answer your questions about how the Family and Human Services program can grow your future. To schedule an advising appointment, Use Navigate, available on the App Store and Google Play or schedule an appointment with Student Academic Services.
---
The Student Experience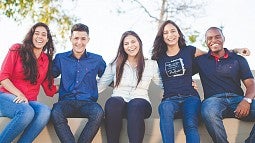 Your journey in FHS will prepare you for the vast array of careers focused on promoting and maintaining the health and well-being of communities, families, and individuals through prevention and intervention across the many environments in which humans live and work. As professionals in the human services you will be called to serve diverse individuals with myriad needs. You'll learn to balance competing commitments and professional development. You'll learn to explore scientific evidence and evaluate experiences. You'll be the next generation who shapes how we build healthier and more just communities. You'll learn that we're here for you – all FHS faculty and staff are ready to support your success!
---
Hands-On Experience
Students in either the Direct Service Intensive or Prevention Science pathways complete their training through real-world experiences. We have more than 100 community partners who are excited to host students and provide internships in non-profit administration, child development services, case management, research, addiction services, counseling, and more.
---
What Our Students Are Saying...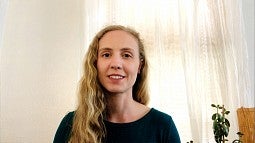 Hi, I'm Victoria, I am a senior in the family and human services program and I'm minoring in special education. Something I've really enjoyed about the FHS program, is learning more about the complexities of human development; especially in relation to its many outside influencers such as family dynamics, public policy, and cultural norms.
Victoria Allen Harvey, Class of 2021
---
Enrich Your Academic Experience
Our inclusive class models create tightly knit communities of students who influence each other's success, and most students are involved in research as part of their program requirements. We have a culture that values diversity and promotes respect and inclusion. We produce scholars and practitioners who are prepared to make meaningful changes in our local, national, indigenous, and internal communities. Our graduates become leaders in education and human sciences who change lives and improve outcomes for individuals and systems.
---
Commitment to Inclusion and Social Change
The Department of Counseling Psychology and Human Services strives to maintain an inclusive learning environment that values and celebrates diverse perspectives so that all students can flourish professionally and personally.  Our view of diversity encompasses, but is not limited to, ability, age, culture, gender, language, nationality/geography, political views, race/ethnicity, religious beliefs and practices, sexual orientation, and socioeconomic status/class. Advancing social justice is central to our educational mission. We condemn the systemic racism, oppression, and violence against minoritized communities in the United States and stand in solidarity with calls for social justice. Our community strives to advance social justice through our research, pedagogy, service, and clinical outreach, which collectively aim to improve the lives of individuals, families, and communities. Our work toward these goals is an ongoing journey of learning, and we welcome input from our students, colleagues, alumni, and friends to support these efforts.
---
Scholarships and Funding 
We provide a number of scholarship and funding opportunities in an effort to offer students support in pursuing their degrees and professional futures by removing as many barriers to those goals as possible. We use one common application that will automatically enter you into consideration for any and all scholarships for which you meet selection criteria.