The Family and Human Services (FHS) program does not have an application process, you simply need to add the major.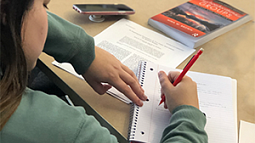 Information on how to schedule an advising appointment is available below. 
Add the Family and Human Services Major
Incoming students may declare the FHS major at the time of their admission to the University of Oregon or explore the major by talking with an academic advisor during IntroDucktion.
Current UO students may also explore or declare the FHS major by talking with an academic advisor.
---
Schedule an Advising Appointment
In order to declare the major, you will want to meet with a College of Education advisor.
Please schedule a remote advising appointment using Navigate, following the instructions outlined below. 
Scanning the QR codes below will take you to The Navigate App (recommended). Once you open the app, follow these instructions:
INSTRUCTIONS
  Log in with your Duck ID
  Go to Appointments > Schedule an Appointment
  Select Academic & Career Advising
  Select College of Education Undergraduate Advising
  Select topic of appointment
  Select Advisor
  Select a day and time
  Select email and text reminder
  Select Confirm Appointment
Advisors are also available by email and phone. Contact information for advisors is listed on the Meet Our Advisors tab on our advising website: College of Education Undergraduate Advising.
During Fall 2020, walk-in advising in HEDCO 130 will not be available.