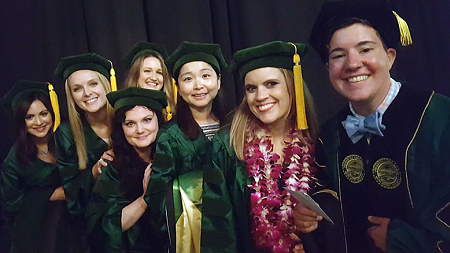 Our master's program offers master of arts, master of science, and master of education options with licensure coursework if you want to earn a teaching license with your degree. You can also add endorsement course plans in early intervention or K–12.
Master's + Licensure
Our master's + licensure programs prepare preservice teachers to meet the preliminary special education licensure requirements for Oregon in either:
K-12/Generalist
Early Intervention
Inservice teachers can complete coursework to meet the added endorsement requirements for these age groups, as well through our endorsement program.
---
Master's Only (Non-Licensure)
The master's only option is ideal for current teachers who are interested in pursuing advanced graduate training in special education and completing a program that is individualized and based on their interests and goals.
This option is ideal for individuals with a bachelor's degree who want to learn more about special education, but who do not necessarily want to pursue a career in teaching.
Endorsements (Non-Degree)
We have 2 endorsement options for currently licensed teachers, one in reading intervention and the other in getting your endorsement in special education. Both of these endorsements can be completed in three terms of courses and a practicum.
Doctor of Philosophy (PhD)
The doctoral degree program leads to a PhD in special education and provides advanced training that prepares students to be the next generation of leaders in special education. 
The cohort model and history of full funding for doctoral students allows scholars to focus on their studies in a collaborative, supportive learning environment.