SPED Handbook  |  Full Funding Opportunities  |  Apply Now
Since 2000, the U.S. News & World Report  survey has ranked the Special Education program at the University of Oregon as #3 in the nation. Review of applications begins December 1.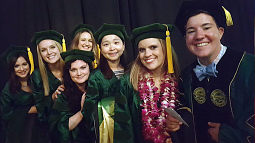 We have a proven track record of students completing in less than 5 years and our graduates obtain leadership positions in the following areas:
40%
Tenure-line or Instructional Faculty at Universities
36%
Research and Outreach/Post-Doctoral Research Positions
23%
District Administration, State or Federal Policy, Nonprofit Management
---
Check out the impressive research our students are doing by visiting the Doctoral Ducks research site: https://blogs.uoregon.edu/speddoc/.
---
Unique and Individualized Doctoral Training Experience
Individualized plan of study: Our program competencies (see handbook) are designed to support each candidate to develop expertise in the domains of university teaching, service, and research. How a candidate satisfies each competency is individualized to the candidate's interests in collaboration with program faculty. 
Collaborative Learning Environment: Each year approximately 4-8 students are accepted and work with one another using a cohort approach to create a collaborative and supportive learning experience.
Learn from leading researchers in the field of special education 
No. 1
Highest ranked academic program at uo
No. 3
special education graduate program in the united states
No. 7
Graduate school of education among public institutions