SPED Handbook  |  Full Funding Opportunities  |  Apply Now
Since 2000, the U.S. News & World Report  survey has ranked the Special Education program at the University of Oregon as #3 in the nation. Review of applications begins December 1.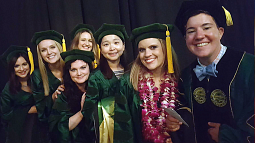 We have a proven track record of students completing in less than 5 years and our graduates obtain leadership positions in the following areas:
40%
Tenure-line or Instructional Faculty at Universities
36%
Research and Outreach/Post-Doctoral Research Positions
23%
District Administration, State or Federal Policy, Nonprofit Management
---
Check out the impressive research our students are doing by visiting the Doctoral Ducks research site: https://blogs.uoregon.edu/speddoc/.
---
Current Full Funding Opportunities (Full Tuition, Monthly Stipend, Health Insurance Covered)
Collaboration Across Universities to Prepare Leaders in Evidence Based Practices (Co-LEAD)
Project Co-LEAD will train future leaders to: (a) develop rigorous research agendas that are focused on improving outcomes for students with ASD and their families through evidence-based practices, cultural adaptation, and implementation science; (b) incorporate and use this research in personnel preparation programs; and (c) prepare highly qualified and skilled special education teachers who are committed to providing evidence-based practices to students with ASD. For more information email Wendy Machalicek (wmachali@uoregon.edu)
Innovative Leadership Education Advancing Diversity (I LEAD)
Project I LEAD will prepare future Special Education faculty to conduct research and train future teachers in effective instructional practices with ELs with disabilities, including advanced research methodology, consultation, and educational systems change. For more information email Lillian Duran (lduran@uoregon.edu)
---
Unique and Individualized Doctoral Training Experience
Individualized plan of study: Our program competencies (see handbook) are designed to support each candidate to develop expertise in the domains of university teaching, service, and research. How a candidate satisfies each competency is individualized to the candidate's interests in collaboration with program faculty. 
Collaborative Learning Environment: Each year approximately 4-8 students are accepted and work with one another using a cohort approach to create a collaborative and supportive learning experience.