Fully Funded   |   Impressive Research  |   SPED Handbook   |   Information Session   |   Apply Now
Learn from leading researchers in the field of special education 
Our nationally ranked University of Oregon Special Education program has a track record of preparing graduates to stand out in their careers and improve educational practices. The research, resources, and practices our program faculty conduct impacts the field of education in the US and globally.
Our doctoral training experience is unique and individualized. Our program competencies (see handbook) are designed to support you to develop expertise in the domains of teaching, service, and research. Working with your advisor and other program faculty, you will create a plan that will provide you expertise in the areas you are interested in studying while being exposed to all of the service and research experiences our program and COE faculty conduct.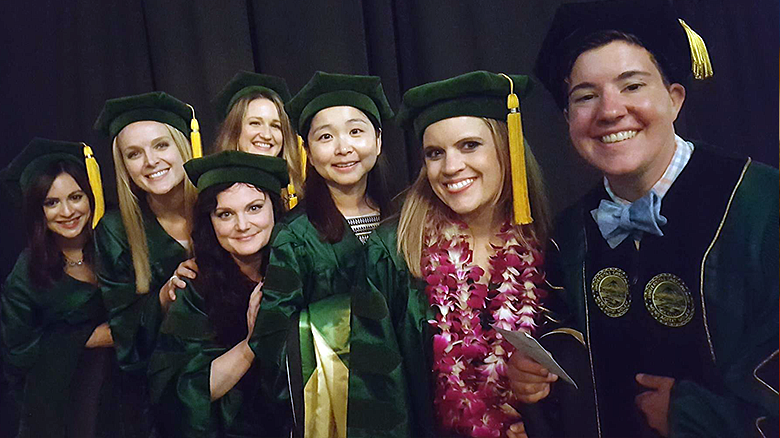 Our program faculty teach and research a wide range of topics in the field of special education (e.g., dual language learners, assessment, autism, social emotional learning, early childhood, behavioral analysis, post-school community engagement, instruction, equity in school discipline, etc.) with a critical eye toward improving systems and practices to promote equity in educational outcomes for all students. We typically admit 4-8 students a year to work as a cohort to maximize your learning and experiences.
All admitted students receive four years of funding (including tuition and health insurance coverage).
---
Information Session
Didn't have a chance to attend our recent information session November 2, 2022? That's ok, we've got you covered! You can watch our recorded session below where you can hear from Program Chair Gina Biancarosa, and program faculty members, Wendy Machalicek, Rhonda Nese, and Sara Schmitt. We shared information about program structure, design, and classes -- and answered questions. If you have any additional questions after watching, please send an email to: sped@uoregon.edu. 
---
New Specialized Training Experience!
Investing in New SPecial educators with Innovations to Realize Equity (INSPIRE)
Project INSPIRE will prepare 5 scholars to build expertise in implementing and researching MTSS in high-need and diverse schools. INSPIRE Scholars will complete specialized coursework in implementing evidence-based special education practices in diverse contexts. Scholar competency development will be anchored by a professional seminar that explicitly examines links among culturally responsive practices, evidence-based practices, MTSS, and implementation science in high-need contexts. Learning will be enhanced through implementation fieldwork experiences implementing MTSS with district and state teams serving high-poverty schools. In addition, the program's ongoing partnerships with three OSEP national TA centers, Springfield Public Schools, and the Northwest PBIS Network will provide students with unique access to experiences in crafting policies to increase implementation and equity in access and outcomes across the range of school systems.  For more information on this project please contact Dr. Rhonda Nese rnese@uoregon.edu.
---
We have a proven track record of students completing in less than 5 years and our graduates obtain leadership positions in the following areas:
40%
Tenure-line or Instructional Faculty at Universities
36%
Research and Outreach/Post-Doctoral Research Positions
23%
District Administration, State or Federal Policy, Nonprofit Management
What our students are saying 
Why did you choose to come to the UO? 
"I saw an opportunity to work with UO faculty members who are making a tremendous impact in the local and global communities."
--Rikki Wheatley, Current third year doctoral student
What projects are you excited to work on?
The SIMPLE grant - Dr. James Sinclair focusing on mental health supports and integration of mental health for high school students with disabilities.
--Current second year doctoral student
---
Check out the impressive research our students are doing by visiting the Doctoral Ducks research site: https://blogs.uoregon.edu/speddoc/.
---
Unique and Individualized Doctoral Training Experience
Individualized plan of study: Our program competencies (see handbook) are designed to support each candidate to develop expertise in the domains of university teaching, service, and research. How a candidate satisfies each competency is individualized to the candidate's interests in collaboration with program faculty. 
Collaborative Learning Environment: Each year approximately 4-8 students are accepted and work with one another using a cohort approach to create a collaborative and supportive learning experience.