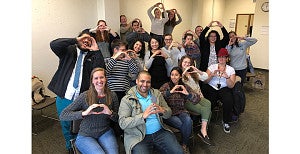 This specialization is offered to qualified Counseling Psychology, School Psychology or Couples and Family Therapy graduate students.
Students who complete the specialization acquire skills that support access to, and administration of, culturally-relevant mental health services and research in Spanish for Latinx populations.
Our Spanish Specialization is designed to enhance preexisting linguistic and multicultural competencies, and increase cultural understanding of US Spanish-speaking populations.
Students learn to critically assess the unique social, historical, political, and cultural contexts that shape the experiences of Latinos in the United States.
Particular attention is given to conditions of social injustice and inequity, and how these conditions influence the health and well-being of Latinx Spanish-speaking communities although these are just a few of the many goals and competencies the program aims to deliver. 
---
Spanish Language Specialization Requirements — Total Credits: 16
1 The courses CPSY 626: Psychological Services & Research with Latino and Spanish Speaking Communities and CPSY 508: Topics in Latina/o Mental Health are open to students outside of the specialization. practicum or externship in the student's major in which the student performs clinical work with Spanish-speaking clients. 
2 A practicum or externship in the student's major in which the student performs clinical work with Spanish-speaking clients.  
Additional Requirements
Once admitted, students must complete the Specialization Declaration Form and send it to slpsr@uoregon.edu.
Required Continuous Learning Activities
Twenty hours of participation in educational and cultural events specifically focused on Latina/o and/or Spanish speaking communities. Examples include lectures, panel presentations, and conferences (e.g. see CLLAS website or NLPA conference). Also a graduate level course of 2-4 credits that is focused on history or culture and approved by the SLPSR Director.
Required Capstone Project
The Spanish Language Psychological Service and Research Capstone Project requires preparing and delivering an oral presentation in Spanish that is a minimum of 15 minutes in length. The presentation must be either a case presentation on mental health services provided to a Latina/o Spanish speaking client, or a presentation of clinical intervention research conducted with Latina/o Spanish-speaking participants.