Why earn a graduate degree in couples and family therapy?
Our Couples and Family Therapy (CFT) master's program is for people who want to develop advanced counseling skills and provide counseling services for individuals, couples, intimate partners, and families.
This program prepares students to become professional family therapists in preparation for licensure in any US state that offers an LMFT license.  
Our program uses a cohort model, meaning students generally start together and graduate with each other. Clinical supervision courses are small (6–8 students to each faculty member), and we emphasize a noncompetitive environment that places high value on acceptance, cooperation, and respect for diversity.
Information Sessions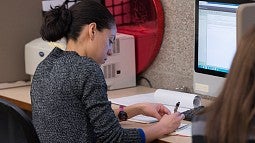 CFT is in the process of scheduling future Information Sessions and the next session will likely take place in the fall.  Once date(s) have been identified, they will be posted on this website.  If you are interested in attending a future information session, please email cft@uoregon.edu. 
---
Program Options 
Although there are no prerequisite degree-specific requirements—a bachelor's degree in any discipline, minimally, is required. The Couples and Family Therapy (CFT) program leads to a master of science (MS) degree.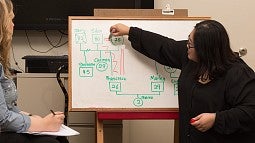 ---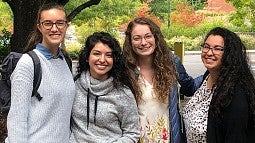 Couples and Family Therapy graduate students may also add the Spanish Language Specialization, which is housed in within the Counseling Psychology program.
---
What can I do with a degree in couples and family therapy?
Out graduates are very successful in securing employment in a variety of settings. Our alumni are employed in:
Hospitals
Outpatient nonprofit clinics
School-based agencies
Adoption support centers
Private practice
Addiction recovery inpatient and outpatient centers
Residential treatment centers
Many of our graduates also eventually move into clinical director positions, clinical supervision, and professional consultation—or go on to earn doctoral degrees and work in university settings.
---
More Information
Additionally, there is a useful 1-credit Saturday workshop offered in fall, winter, and spring that prepares students for applying to graduate programs in the social sciences: CPSY 408 Grad School Prep.
---
Accreditation
Since 2003, the Couples and Family Therapy master's program has been accredited by the Commission on Accreditation for Marriage and Family Therapy Education of the American Association for Marriage and Family Therapy and approved by the Oregon Board of Licensed Professional Counselors and Therapists.
The University of Oregon's CFT program conforms to COAMFTE standards 12.0 educational requirements and meets or exceeds all educational requirements for MFT licensure in Oregon. However, although most states set their licensure educational standards according to CFT Student Handbook and COAMFTE guidelines, it is possible that moving to a state outside of Oregon may require additional coursework in order to pursue a license.
The University of Oregon's CFT curriculum meets the program-level training requirements for licensure as a marriage and family therapist in Oregon. Currently, all 50 U.S. states and the District of Columbia have a marriage and family therapy licensure law and, because the University of Oregon's program is accredited by COAMFTE, our curriculum also meets the requirements for licensure in many states. However, state laws vary. As a potential applicant to our program, we urge you to contact the licensing body in the state(s) in which you plan to practice for information about the licensure requirements of that state(s).
---
Contact Information
Bernice Ofori-Parku
Academic Program Coordinator
cft@uoregon.edu
541-346-0909