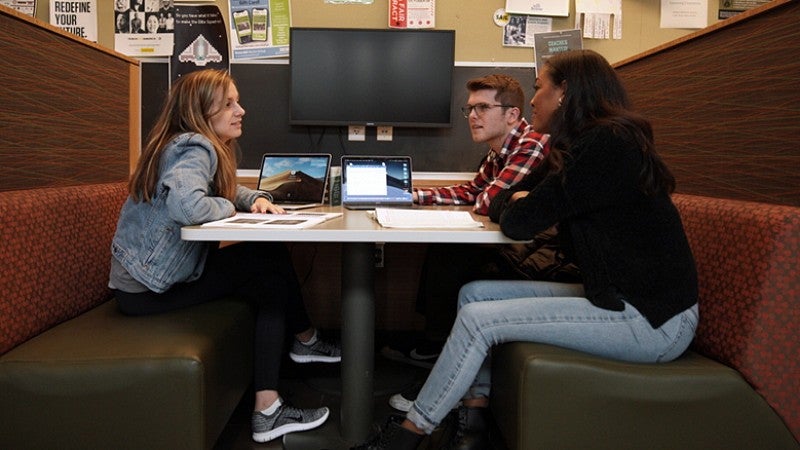 ---
Our Special Education (SPED) undergraduate certificate is designed for students who are interested in pursuing a teaching license in K-12 Special Education. The certificate allows undergraduate students to complete the first year of our graduate licensure program as undergrads, then complete the program and a Master's degree in one year, post-baccalaureate. This certificate is open to students from all majors.
The SPED certificate coursework is grounded in research and practical applied work, preparing students to work collaboratively in school settings to promote the success of all students with disabilities and their families through evidence-based practices through:
Applied field and practicum experiences
Foundational coursework that includes history, etiology, identification, classification, legislation, and alternate program delivery systems for individuals with disabilities
Required licensure coursework in special education including instructional methods, positive behavior supports, classroom management
---
SPED Certificate Program Requirements
Students must complete a minimum of 36 credits of required courses
All upper-division credits must be completed in residence at the University of Oregon
A minimum grade of B- or P must be earned in each required course
All courses must be taken for a letter grade unless only offered pass/no pass (e.g., field studies, practicum)
Students wishing to waive required coursework need to obtain coordinator approval
---
SPED Certificate Program Plan
Complete the courses listed below, with a minimum grade of B- or P, prior to applying for the SPED certificate.
Second Year - 7 Credits
*Students may count field study from another program, if the experience involved working with individuals with disabilities in a special education or community setting. This may also apply to students with extensive experience (paid or unpaid) in special education.
**University and TSPC background checks are required for the SPED Certificate, prior to beginning Year 4. If you have questions, please email the SPED Certificate Program Coordinator. Students should complete any volunteer procedures required by their field study site.
*** Instructor approval required.
---
Third Year — 17–18 Credits
Apply to the Certificate program during the Fall term
*Child Development course is a prerequisite for licensure program
Fourth Year - 12 Required Courses; 12 Reserved Graduate Credits
**Complete Reserve Graduate Credit form
***Additional course recommended for those continuing with SPED K–12 License.