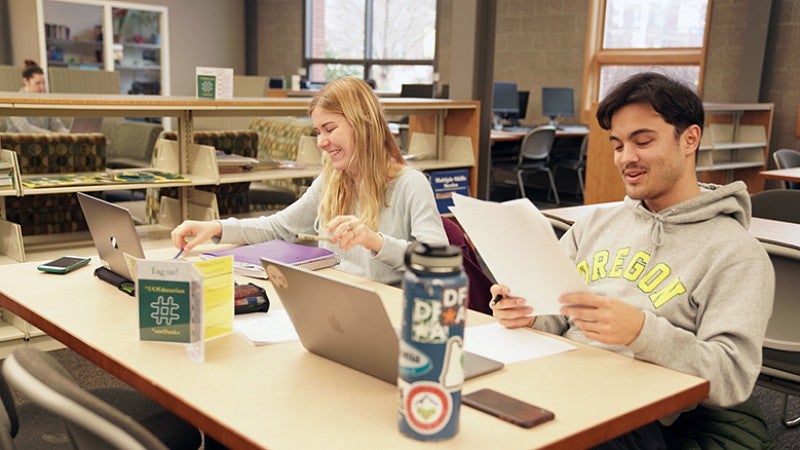 ---
Our Special Education (SPED) undergraduate minor is designed to provide students with foundational knowledge and experiences for careers in teaching general or special education, working with individuals with disabilities in transition, employment, or community settings, or who are interested in issues concerning people with disabilities. This minor is open to students from all majors.
The SPED minor coursework is grounded in research and practical applied work, preparing students to work collaboratively to promote the success of all individuals and their families through evidence-based practices in inclusive settings through:
Applied field experiences.
Foundational coursework that includes history, etiology, identification, classification, legislation, and alternate program delivery systems for individuals with disabilities.
Elective coursework in special education including instructional methods, positive behavior supports, classroom management, and law.
Elective coursework in other COE and university programs addressing topics such as language development, child/human development, disability studies, and cognitive and social development.
---
SPED Minor Program Requirements
Students must complete a minimum of 24 credits of required courses and approved electives.
18 credits must be completed in residence at the University of Oregon.
13 credits must be SPED prefix courses, including:
At least 12 credits must be taken on a graded basis. 
A minimum grade of B- or P must be earned in each required course; C or P must be earned in each elective course.
No more than 6 field studies credits can be counted toward the minor requirements.
No more than 2 courses from the student's major prefix can be counted toward the minor.
Students wishing to waive required course work, use transfer credits (up to 6) as part of the minor requirements, or take an elective not specified on the elective list, need to obtain coordinator approval.
---
SPED Minor Program Plan
To apply for the minor, students need to complete SPED 411 with a minimum grade of B- or P.
Students are required to complete SPED 420, 407, and 411, and at least two additional SPED courses to meet the 13 SPED credit requirement:
*Students may waive the field study requirements if a field study with a special education focus was part of another academic program. If waived, additional elective credits need to be taken to complete the 24-credit requirement. This may also apply to students with extensive experience (paid or unpaid) in special education.
**A University background check for the SPED minor is only required for students who are directly "responsible for the care, custody, or control of minors and/or other vulnerable populations". Most field study experiences do not meet this definition. If you have questions, please email the SPED Minor Program Coordinator. Students should complete any volunteer procedures required by their field study site.
*** Instructor approval required. It is highly recommended that students take SPED 407, SPED 426, and SPED 410 (or other approved child development course) prior to enrolling in SPED 422, 440, 441, or 442.
---
Additional Elective Coursework–total credits: 11
For the remaining credits, students can complete additional SPED courses or choose from the following list. (The courses listed are examples and are subject to change and availability. For a current listing, please contact the SPED program as well as the departments offering these courses):
*One course in child development can be counted toward the minor.
Research Courses** (one research course can be counted toward the minor):
FHS 420 Research in Human Services (4) or 
PSY 303 Research Methods in Psychology (4) or 
SOC 311 Research Methods (4) or EDLD 450 Data and Information Retrieval (1)