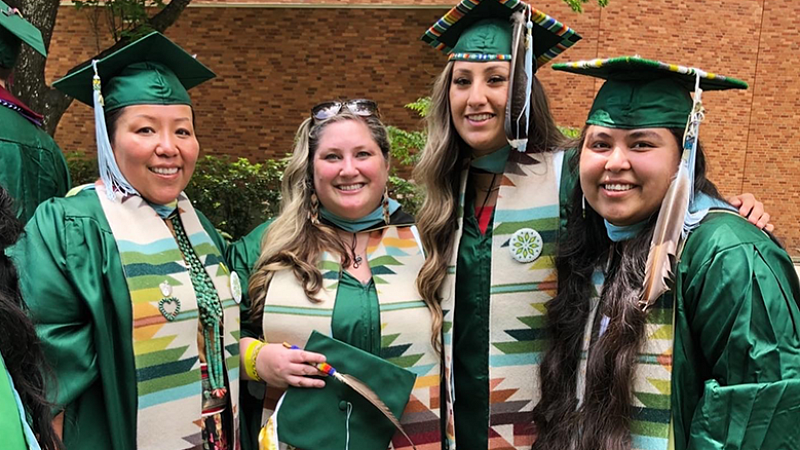 Interpretation and recordings by Átway Arlita Rhoan and Suzie Slockish (Confederated Tribes of Warm Springs)
Annually we accept American Indian/Alaska Native applicants interested in becoming teachers.
Mission
Education strengthens Tribal communities, all students deserve Indigenous teachers, and everyone benefits from Indigenous education.
Goals
provide a pathway for Indigenous people to become teachers within their communities, with an emphasis on growing our own Native educators
prepare highly qualified American Indian/Alaska Native (AI/AN) licensed teachers who are committed to Indigenous self-determination and decolonization
address the dire need for AI/AN teachers mandated in the Oregon AI/AN Student Success Plan
provide a culturally sustaining and revitalizing educational model aligned with Senate Bill 13: Tribal History/Shared History
strengthen relations between the University of Oregon and Tribal Nations in Oregon and beyond
support Tribal Nations' Indigenous and Treaty rights
dismantle settler colonialism
Student Support
Our unique program provides the following for our students during the school year and post-graduation:
Tribal Advisory Council: Guided on how the program meets the changing needs, operate as a consortium with appointees from all Nine Sovereign Tribal Nations of Oregon
Distinguished Elder Educator: Intergenerational educational model with Dr. Virginia Beavert (Yakama Nation)
Partnership with Northwest Indian Language Institute: Support students' engagement with Indigenous Language Education
Cohort within a cohort: Participants receive program specific administrative and student services support 
Sapsik'ʷałá Seminars: We engage Indigenous Education methods and address problems of practice through community building
Master's degree and Oregon Teaching License: Participants will receive a teaching license or secondary endorsement if already licensed
Program Graduate Employees: We employ GEs to support students while attending the program. Our GEs are experienced teachers, and often Sapsik'ʷałá alumni, who are obtaining their PhDs in education
Placement and Induction Year: We support students during program enrollment with identifying job placements, and post-graduation by funding Induction mentorship support
Community Partners
Sapsik'ʷałá proudly partners with all sovereign Nations of Oregon and with several University of Oregon entities:
Tribal Advisory Council: The UO College of Education in consortium with the Nine Federally Recognized Tribes of the State of Oregon initiated the Sapsik'ʷałá (Teacher) Project in 2002. The recruitment, support, pre-service training, and in-service mentorship of American Indian and Alaska Native teachers will be developed together with the oversight of the council. We are privileged to have the following people as members of the Sapsik'ʷałá (Teacher) Advisory Council: 
Coquille Indian Tribe – Vice Chair, Molly Hockema and Jen Procter Andrews
Cow Creek Band of Umpqua Indians – Sandy Henry
Confederated Tribes of Siletz Indians of Oregon – Alissa Lane-Keene and Sonya Moody-Jurado
Confederated Tribes of the Warm Springs Reservation – Valerie Switzler and Carol Dick
The Klamath Tribes – Julie Bettles
Confederated Tribes of the Grand Ronde – Justin Flynn and Angela Fasana
Confederated Tribes of the Umatilla Indian Reservation – Brandie Weaskus
Confederated Tribes of the Coos, Lower Upqua, and Siuslaw Indians – Josh Davies
Burns Paiute Tribe – Vanessa Bahe 
University of Oregon – Dr. Brian Klopotek, Choctaw, (Indigenous, Race, and Ethnic Studies)
University of Oregon – Norma Trefren, Confederated Tribes of Siletz Indians of Oregon, (Center for Multicultural Academic Excellence)
University of Oregon – Dr. Kirby Brown (Native American Studies)
University of Oregon - Autumn Forespring, Lower Cowlitz, Admissions Counselor for Native American Recruitment
Members At Large – Chair, Dr. Angie Morrill (The Klamath Tribes)  
Northwest Indian Language Institute Summer Institute Projects
The Northwest Indian Language Institute works with Indigenous languages of the Pacific Northwest and across the continent helping to provide resources for language revitalization. Every summer the NILI Summer Institute is held on the campus of University of Oregon. At the Summer Institute, Sapsik'ʷałá students as well as other language teachers and language revitalization practitioners take courses to help them learn pedagogy for teaching Indigenous languages.
Indigenous language pedagogy is an important part of our program because it helps students gain an understanding of how the language of a community is tied to the culture, and that languages are the lens through which a person views the world. In addition it gives our future teachers methods for teaching language that might be more culturally relevant for a Native community as opposed to methods that are used for more prominent world languages.
Territorial Acknowledgment
The University of Oregon is located on Kalapuya ilihi, the traditional indigenous homeland of the Kalapuya people. Following treaties between 1851 and 1855, Kalapuya people were dispossessed of their indigenous homeland by the United States government and forcibly removed to the Coast Reservation in Western Oregon. Today, Kalapuya descendants are primarily citizens of the Confederated Tribes of Grand Ronde and the Confederated Tribes of Siletz Indians, and they continue to make important contributions to their communities, to the UO, to Oregon, and to the world.
In following the Indigenous protocol of acknowledging the original people of the land we occupy, we also extend our respect to the nine federally recognized Indigenous nations of Oregon: the Burns Paiute Tribe, the Confederated Tribes of the Coos, Lower Umpqua and Siuslaw Indians, the Confederated Tribes of the Grand Ronde, the Confederated Tribes of Siletz Indians, the Confederated Tribes of the Umatilla Indian Reservation, the Confederated Tribes of Warm Springs, the Coquille Indian Tribe, the Cow Creek Band of Umpqua Tribe of Indians, and the Klamath Tribes. We express our respect to the many more tribes who have ancestral connections to this territory, as well as to all other displaced Indigenous peoples who call Oregon home.
---
Contact Information
Stephanie Tabibian, (Shoshone-Paiute) 
Sapsik'ʷałá (Teacher) Education Assistant Director

sapsikwala@uoregon.edu
541-346-2454
Michelle M. Jacob, PhD (Yakama)
Sapsik'ʷałá Program, Co-Director
 
Leilani Sabzalian PhD (Alutiiq) 
Sapsik'ʷałá Program, Co-Director