Information Session  |  Research to Practice  |  Career Paths  |  Alumni Success Story  |  Scholarships  |  Apply Now
About the Prevention Science Program
If you are passionate about promoting the health and well-being of individuals, families, and communities, our program is for you. It provides training in the design, evaluation, and delivery of interventions aimed at reducing risk and enhancing protective factors in children, youth, and families, and building resilient communities.
Our strengths-based program is designed to produce culturally-competent prevention scientists capable of advancing healthy outcomes across diverse settings.
---
The prevention science program offers the following degree options:
---
---
Information Session
Have questions? Want to learn more? – Please join our program's virtual information session. You can sign up for a Zoom info session.
Friday, November 17, 12:00-1:00 p.m. (PST)
---
Equip yourself to make an impact in your community 
Prevention science careers are on the leading edge of community health planning and advocacy. Our doctoral graduates often work as professors and researchers in university academic departments and research institutes.
Master's graduates typically obtain employment in:
community prevention settings
health departments
nonprofit human service agencies
social advocacy centers
universities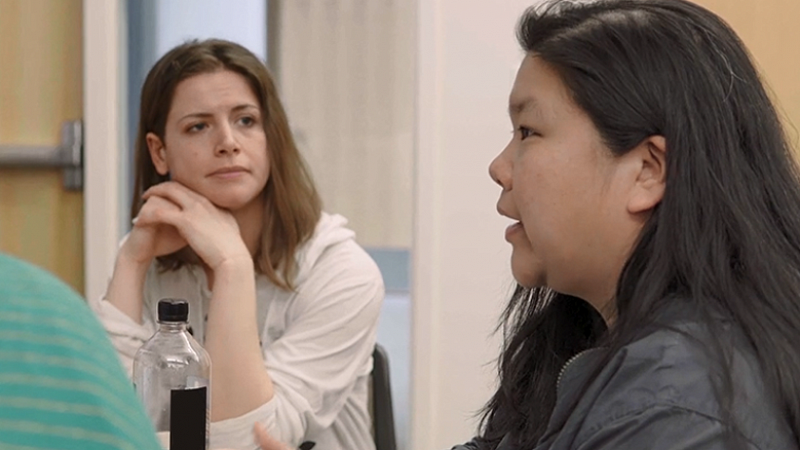 ---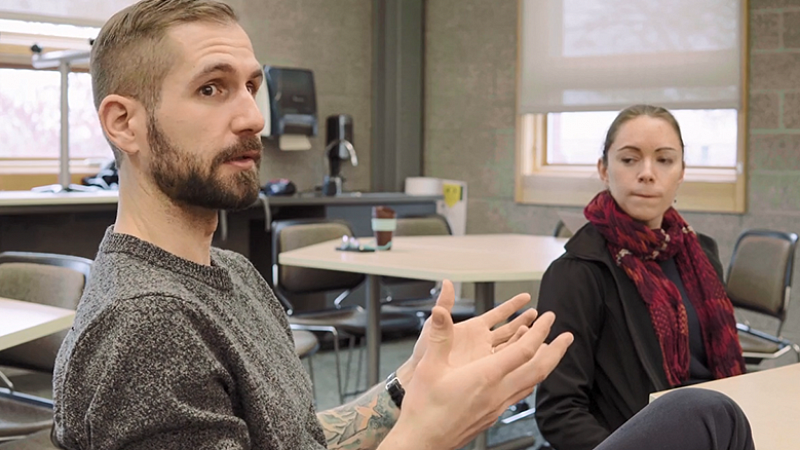 Recent graduates have obtained employment as:
behavioral health specialists
case managers
interventionists
prevention specialists
program managers
research assistants
research project coordinators
---
In addition, many master's graduates also choose to continue their graduate education in pursuit of doctoral training in the fields of:  
couples and family therapy
psychology
prevention science
school psychology
public health
social work
---
Take the Next Step
Call us, email us, visit us or apply to the program. We're here to answer your questions about how a Prevention Science degree can shape your future and positively impact your community.
---
The Student Experience
From day one, students get the hands-on experience of working with some of the leading prevention science faculty in the field. They also get a deep dive into a doctoral specialty area or a capstone project for master's students. We have externship opportunities outside the university where students can apply the skills that they are learning in real-world settings.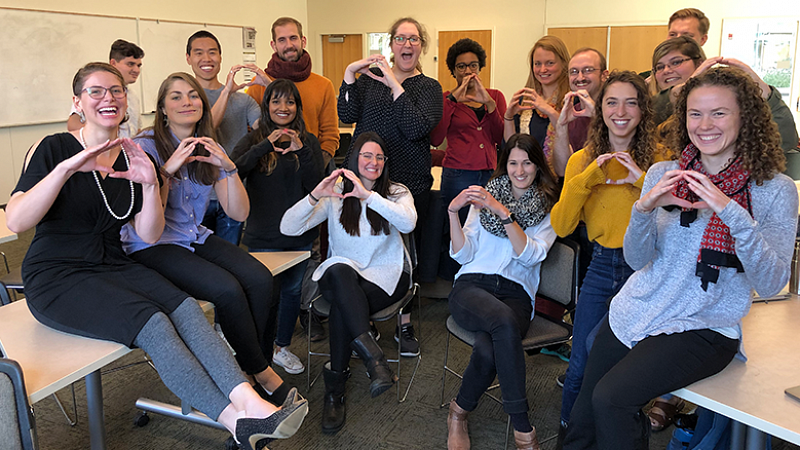 ---
What Our Students Are Saying... 
 "It surprised me how much the faculty's focus is on student health and well being and recognizing that as being part of the program and student development and important for developing professional skills as well."
--Mark Hammond '21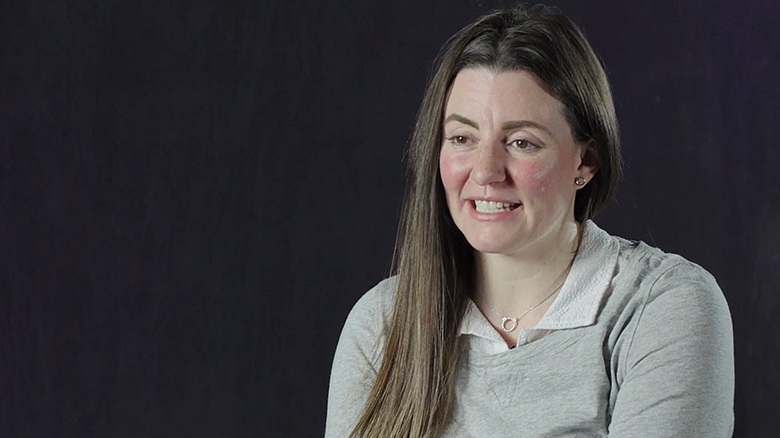 "The Prevention Science research program is preparing me to be the scientist that I want to be, to do community-based research, and also have the skills to be able to communicate the science of prevention to a broader audience."
--Christabelle Dragoo '21
---
Alumni Success Story
Meet Nicholas Capell, MS '21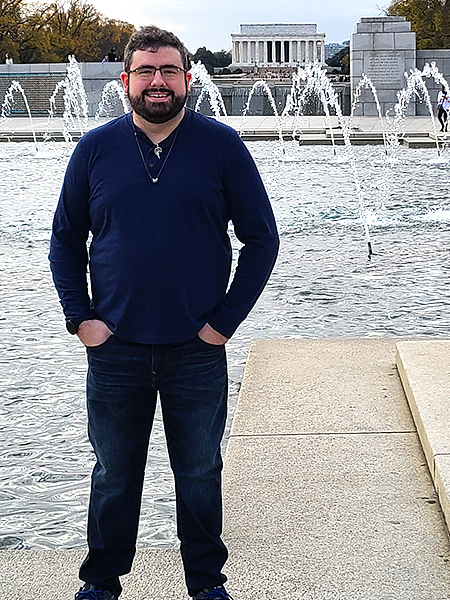 I started in the two-year PrevSci program in Fall 2019; in addition to the core classes, I also was able to take Grant Writing, Implementation Science, Cultural Adaptations of Evidence-Based Interventions, and Prevention and Policy. Shortly after starting the program, I accepted a position as a program assistant with the Center for the Prevention of Abuse and Neglect and the 90by30 Initiative. I supported program implementation across Lane County, and once the COVID-19 pandemic hit, my duties shifted to support the research side of the center as well, working on the 20-year retrospective for the Oregon Attorney General's Sexual Assault Task Force and supporting the evaluation of Stewards of Children, a child sexual abuse prevention curriculum. Since graduating from the Prevention Science program with my M.S. in June 2021, I have accepted a position as a Program Specialist (Budget Analyst) with the National Institute on Aging. In this role, I participate in the budget planning, formulation, justification and execution for the Institute's programs. Focused primarily on grants within the NIA budget, my team manages over $3B annually through grants, and supplements. I was hired on through the Pathways for Recent Graduates program, a one-year, paid internship where I learn the skills needed for the position, with the opportunity for conversion to a permanent position at the end of the program.
---
Hear from some of our faculty
---
Research to Practice 
Many of the Prevention Science program faculty run their research through the Prevention Science Institute, a multidisciplinary research institute that focuses on understanding human development, preventing behavioral health problems, and implementing effective interventions in community settings.
---
Commitment to Inclusion and Social Change
The Prevention Science program is housed in the Department of Counseling Psychology and Human Services, which strives to maintain an inclusive learning environment that values and celebrates diverse perspectives so that all students can flourish professionally and personally.  Our view of diversity encompasses, but is not limited to, ability, age, culture, gender, language, nationality/geography, political views, race/ethnicity, religious beliefs and practices, sexual orientation, and socioeconomic status/class. Advancing social justice is central to our educational mission. We condemn the systemic racism, oppression, and violence against minoritized communities in the United States and stand in solidarity with calls for social justice. Our community strives to advance social justice through our research, pedagogy, service, and clinical outreach, which collectively aim to improve the lives of individuals, families, and communities. Our work toward these goals is an ongoing journey of learning, and we welcome input from our students, colleagues, alumni, and friends to support these efforts.  
---
Scholarships and Funding 
We provide a number of scholarship and funding opportunities in an effort to offer students support in pursuing their degrees and professional futures by removing as many barriers to those goals as possible. We use one common application that will automatically enter you into consideration for any and all scholarships for which you meet selection criteria.