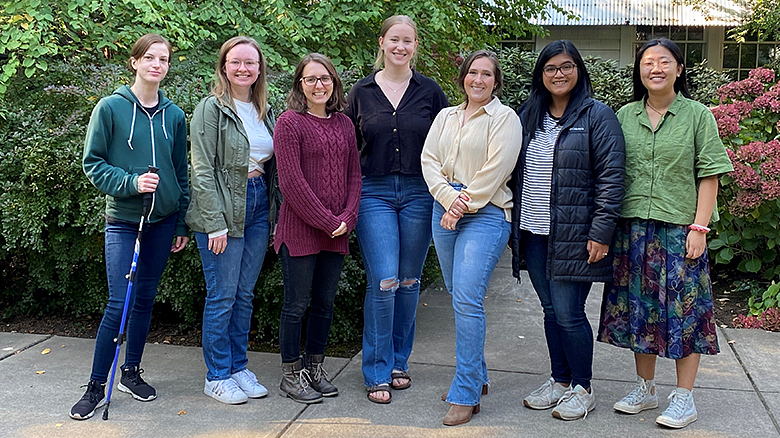 Our prevention science PhD program is one of only a few such doctoral programs in the country.
Our research-intensive degree program can be completed in four years, with students earning an MS en route to the PhD.
This program is intended for students who have completed a bachelor's or master's degree in a related discipline or have significant experience in:
human development
psychology
social science
education
public health
biology
human physiology
nutrition
prevention science
---
Prevention Science PhD Requirements - Total Credits: 105
| Title | CREDITS |
| --- | --- |
| Psychological Foundations | 30 |
| Research Methods | 24 |
| Research | 12 |
| Specialty Area Electives* | 9 |
| Professional Foundations | 8 |
| Grant Writing | 3 |
| Supervised College Teaching | 1 |
| Dissertation | 18 |
*Specialty area electives are designed for students to gain additional substantive or methodological knowledge in a prevention-related area of their interest.
---
Research Requirements
The PhD program is a research-intensive program. All students in the program are expected to demonstrate research competence through:
active participation in research projects
communication of theory and empirical findings through professional presentations and publications
completion of a minimum of 8 credits in Prevention Science research seminar (PREV 607)
completion of 12 credits in Prevention Science 601 (research)
---
Predissertation Research Paper
All students will complete a predissertation research paper by the end of summer of their second year.
Students who completed a master's thesis or master's thesis research equivalent before entering the prevention science program can have their thesis evaluated by their advisor and the program director to determine if it meets the prevention science thesis/predissertation research project requirement.
A master's degree and completed predissertation research paper are required prior to proceeding to doctoral candidacy.
---
Comprehensive Examination
Students are required to write a review article or an empirical paper to submit for publication.
The topic of the article or paper will be related to the student's research focus and will be agreed upon with the advisor.
Work on the comprehensive examination can be completed after the predissertation research paper is completed and approved.
The comprehensive examination paper may build upon the predissertation research paper, but needs to be a separate, publication-quality product.
A committee comprised of the advisor and one other faculty member (either core or affiliated) within the prevention science doctoral program will approve the comprehensive examination paper.
The comprehensive examination is typically completed by end of year 3 in the program, and is required prior to advancing to doctoral candidacy.
---
Dissertation Requirements
Students must:
Take a minimum of 18 dissertation credits (PREV 603)
Form a dissertation committee (at least 4 members as defined in the College of Education and UO)

All UO Graduate School dissertation requirements must be adhered to. Students will be required to have faculty members from at least two (preferably three) disciplines on their dissertation committee

Defend their dissertation proposal to their committee
Write their dissertation
Give an oral defense of their dissertation
---
Student Evaluation
Evaluation is a central component in research training and supervision. Additionally, students are provided regular feedback by their faculty advisor.
The evaluation process includes:
annual student self-evaluation
advisor evaluation
core program faculty completion of a student's performance review each year
---
Teaching Competency Requirements
The teaching competency is met by:
Passing the class PREV 602: Supervised College Teaching
Passing the course PREV 602: Supervised College Teaching requires the completion of a statement of teaching philosophy, which is described in the course syllabus.
Students may enroll for the required supervised college teaching credit prior to or simultaneously with fulfillment of this requirement, but should discuss this with their advisor and clarify a teaching competency agreement prior to registering.
Completing a variety of additional activities for which you receive points.
Students must complete 3 "points" to pass this competency. A list of acceptable activities for this competency includes, but is not limited to the following:

Making a class presentation of 75–90 minutes that you deliver in a course in which you are not enrolled (1 point)
Teaching a course (3 points)
Leading groups in a group teaching format through one entire term (1 point)
Giving an oral presentation (not a poster session) at a state, regional, or national conference (that is different from a class presentation that you may have given) (1 point);
Giving a workshop to other professionals, such as providing a lecture or workshop for professional CEU credits (1 point)
The added benefit of this competency is that you will receive specific feedback on your presentation skills that will serve you during your job selection process.
---
Prevention Science PhD Degree Plan
The four-year course progression model is for students who enter the PhD program with just a bachelor's degree.
First Year
Fall Term - 11 Credits Minimum + Additional Research
Winter Term - 11 Credits Minimum + Additional Research
Program Plan completed and turned in to your advisor by the end of winter term of first year
Spring Term - 12 Minimum Credits + Additional Research
---
Second Year
Fall Term - 8 Credits Minimum + Additional Research
Winter Term - 13 Credits Minimum + Additional Research
Spring Term - 9 Credits Minimum + Additional Research
Summer Term
Complete pre-dissertation research paper by summer of Year 2
---
Third Year
Complete comps by summer of Year 3
Propose dissertation by spring of Year 3
Fulfill specialty area requirements by fall of Year 4
Fall Term - 6 Credits Minimum + Additional Research
Winter Term - 10 Credits Minimum + Additional Research
Spring Term - 6 Credits Minimum + Additional Research
---
Fourth Year
Complete and defend dissertation by spring of Year 4
Fall Term - 6 Credits Minimum
Winter Term - 6 Credits Minimum
Spring Term - 6 Credits Minimum
---
E Course offered during even years
O Course offered during odd years
* Students may register for more PREV 601 Research credits each term for first 3 years based on projects, research teams, etc.
** Specialty Area (9 credits minimum, 9O12 credits total): Students take a min of 3 courses (9–12 credits) in an identified "Specialty Area." Example areas include:
School-Based Health
Advanced Methodology
Neuroscience
Community Wellness and Equity Promotion
College Student Development
Courses from COE and other UO departments can be taken to fulfill the specialty area (e.g., biology, psychology, and human physiology)