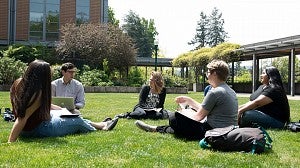 Our second round application deadline is April 15, 2022.
---
Information Session
Want to learn more about EPoL and have a chance to talk with EPoL faculty? Please sign up for a virtual info session. Once you've signed up, we'll send you an email with zoom information. 
February 22nd, 2022, 12:30pm PT / 3:30pm ET: Click here to sign up. 
March 14th, 2022, 4:00pm PT / 7:00pm ET: Click here to sign up. 
Want to learn more? Didn't get a chance to attend the education policy and leadership program virtual information sessions? That's ok, we've got you covered! Hear from program director Dr. Ilana Umansky and Professor David Liebowitz who offer more detail on the master's degree program.
---
Cohort and Acceptance Rate Information
Each year, we admit a cohort of up to 30 students. We are looking for applicants with an undergraduate degree, a drive to improve education policy and/or leadership, and interest in (but not necessarily experience with) quantitative methods. We are especially excited by applicants with work experience in an education, not-for-profit, policy, or government setting. We strive for a diverse cohort each year, and highly encourage students of color and students from other underrepresented groups to apply!
Application requirements
Online application Please fill out our UO online application form. You do not need to complete the online application in one sitting. You will be able to log in and view/update each section of your application until you submit it.
Statement of Purpose In 1-3 pages, please describe for us your goals in pursuing the Education Policy and Leadership MS degree, your future professional aspirations, and how your personal and/or professional interests and experiences led you to apply for this program.
Current resume/curriculum vitae Please include a resume/curriculum vitae (CV) that lists your educational and work experience.
Official transcripts Please include official transcripts from all prior institutions of higher education that you have attended.
Three (3) letters of recommendation Please select people who know you well and can speak to your academic and professional skills, background, and potential.
An example of your scholarly or professional writing (OPTIONAL) This optional element of your application can be a paper from your undergraduate studies that you feel exemplifies your research and writing skills or it can be a piece of professional writing from your work experience.
Valid GRE scores (OPTIONAL) GRE scores are an optional element of your application. If including, please have an official GRE report sent to us.
A non-refundable application fee The application fee is $70 for domestic students and $90 international students, paid by credit card or eCheck. Check here to see if you are eligible for a fee reduction or waiver .
Applicants must have an earned B.A. or B.S. to be eligible for admission.
International students whose primary language is a language other than English also need to include TOEFL scores.
International Students 
EPoL welcomes international student applicants including those who plan to return to their home country after the program and those who will seek work or further studies in the U.S.