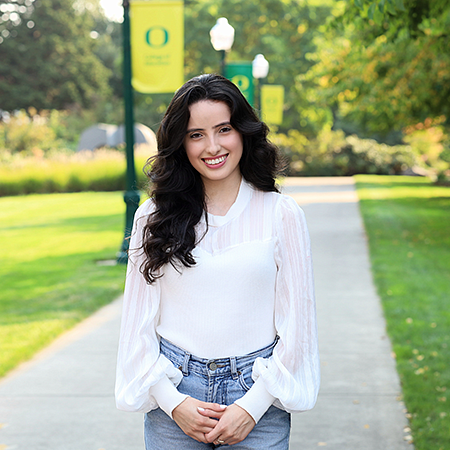 Quick Facts
Hometown: Wilsonville, Oregon
What are you studying? Education
Degree: A Bachelors of Science in Education Foundations
Favorite books or movies: My favorite books are all the books by the author Karen M. McManus
Hobbies: I like to read, discover new places, travel, and spend time with my family and friends
Favorite places in Eugene: Spencer's Butte, Meraki Coffee Shop, and 5th Street Alley
Why did you choose UO?
As soon as I saw the University of Oregon, it immediately felt like home. It is a great place to be all around, everything from the friendly people to the beautiful campus, with an environment that is always so positive and welcoming. The University of Oregon also has an excellent College of Education that got me so excited to attend. Overall, it is a place filled with wonderful people and many opportunities for all students.
What excites you about your chosen field of study?
I can't wait to stand in front of my classroom and see the smiling faces of my students every time they learn something. I am looking forward to making learning fun and seeing my students grow to love learning one day at a time. Altogether, I am excited for everything that comes with being a teacher, from decorating my own classroom, teaching, growing, learning, being a mentor, to creating fun memories with my students and so much more.
What is your most memorable experience at the College of Education?
During one of my education classes we were acquired to do our teaching field experience and I attended a bilingual Elementary School for it and it left me with an experience I will never forget. I've never stepped foot in a classroom where they spoke Spanish in and being Hispanic, it made me so happy to see my culture being implemented so much in the classroom, something I never thought I would see. The best part was being able to switch between both Spanish and English freely in a classroom setting and of course being called "Maestra Valeria," which made me feel like I was in Mexico. It was the best feeling and the College of Education allowed me to step out of my comfort zone and opened up this opportunity for me to experience and learn from.
What impact do you hope to make in your future career?
As a future teacher, I hope to make an impact in student's lives by inspiring them to succeed and follow their dreams. I want to be able to help them create meaningful learning experiences and help them make sense of the world through creative ways.
Do you have any advice for prospective students?
My advice to prospective students would be to not give up and to believe in yourself. There will be days and nights that will be hard but always keep your goals in mind and never lose sight of them. Stay organized and positive, work hard and use your resources, for you are not alone and anyone would be so happy to help you succeed.