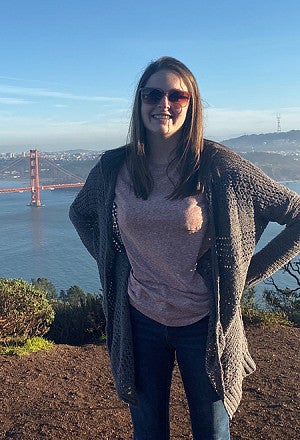 What have you learned during your time in the program that has helped shaped your future career goals?
I have learned the importance of patience over everything. Prior to this program, I struggled with structuring large projects into short, achievable pieces. Long term projects may not have a place within a thesis, but instead will serve as a career-long journey. Not everything needs to happen within a ten-week term, a school year, or even within a five-year period. Planning to adapt and learn more about your topic as your field grows will allow you to continue piecing your research into achievable goals.  
What are your career plans after completion of the program?
After completing my degree, I plan to continue onto a PhD program in Education focused on adult literacy. The needs assessment I conduct for my thesis will serve as the building block towards the development of an adult literacy assessment for my dissertation. Post-academia, I would like to work with literacy agencies on curriculum, assessments, and reading material development. Many agencies use tools that are meant for children, but are adapted for use with adults reading at a similar level. I believe it is necessary to create materials and resources for the continuously growing population of illiterate adults to better the chances of their children becoming literate.  
Are there any faculty/staff that has be influential and helpful during your time in the program?
Dr. Leilani Sáez has been influential in my development as a researcher. In working on independent projects with her, I have learned to fine-tune my analysis and critical thinking skills. Her work with assessments has inspired me to follow her lead in developing a leads assessment for the field of adult literacy. Dr. Joe Nese has been influential in my development as a research data analyst. While being involved in his project regarding reading prosody, I gained valuable teaching, writing, and data dissemination skills. His classes on and use of R, a programming software, offered me valuable data organization skills that will be useful when collecting large sums of assessment scores.