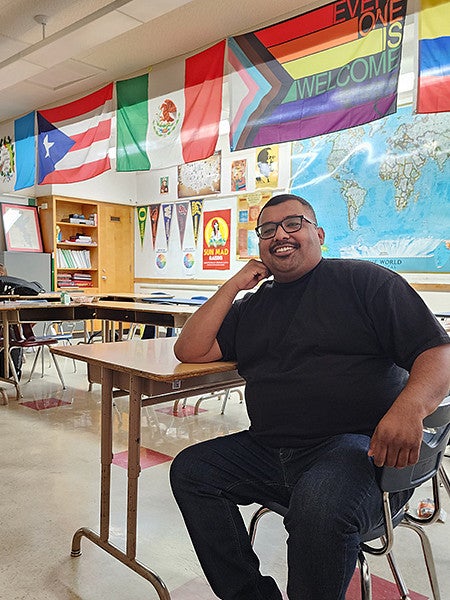 Jesus "Chuy" Narvaez Santiago, '21
Jesus was a Logan Scholar at the University of Oregon. He also was a speaker for the COE's Spring 2021 Advisory Council Meeting.
What are some hands-on experiences you had as a UOTeach student that you found valuable for your career?
The hands-on experience I always appreciated was being able to work with my coordinating teacher Lisa Iacovetta (Churchill H.S.) and my supervisor Sue Wilson (Lane ESD) as I student taught. 
I had all this understanding of what it meant to be a teacher, but these two amazing individuals helped me think about the things I wasn't even aware of. Thanks to UO Teach I was able to work with these two amazing individuals and improve myself as a teacher, today I still use their advice as I teach my own classrooms. Its amazing to be put next to people who have so much passion for the career of teaching!
Tell Us About Your Current Position:
I am currently in my 2nd year of teaching at North Eugene High School (NEHS) here in Eugene, OR. I currently teach 9th Grade Global Studies. I love being able to work with freshman students, because it is their first year of high school and I can be someone they can count on as they progress through their next years of schooling.
Tell us one way your UO graduate school experience prepared you for your current position:
One way UOTeach helped me was by being able to understand how many challenges are within the school systems and how to use your resources available to overcome them and support the students.
Tell us one change you would make to our field and how you are working to enact it:
When it comes to high school education and conversations about history or race, students always respond by saying, "How come we never learn about this or talk about this in school." When I finished my first year of teaching for the 2021-2022 school year I proposed Ethnic Studies classes focused on Black, Native American, and Latinx Studies. These classes would deep dive into the conversations high schoolers are asking for. They were not approved due to other factors, but I proposed them again now in my second year of teaching, and they have been approved. For my third year of teaching I will be doing classes I have so much passion for! We need Ethnic Studies to be considered in the school's curriculum. Ethnic Studies NOW!
Share one piece of advice you would to current students:
Doubt is something that can linger and even make you question if you belong. You even ask yourself can I do this after all this work. Just know you can succeed, failure is only but a challenge to overcome. Don't ever let doubt settle in, because then it becomes more difficult to overcome. You belong. You will create change. Pa'lante! (Onward!)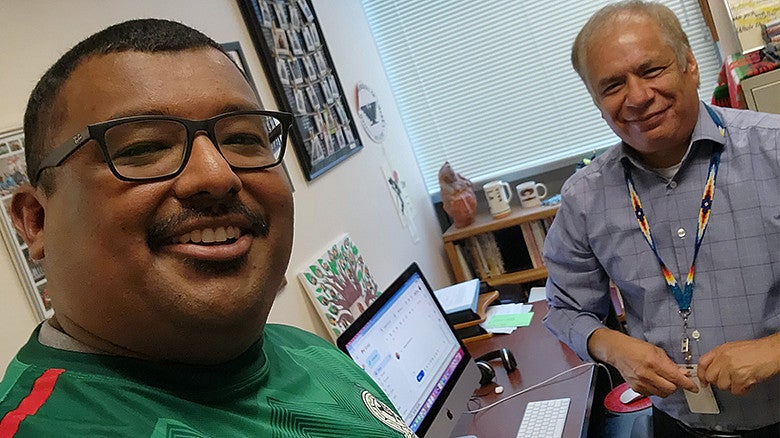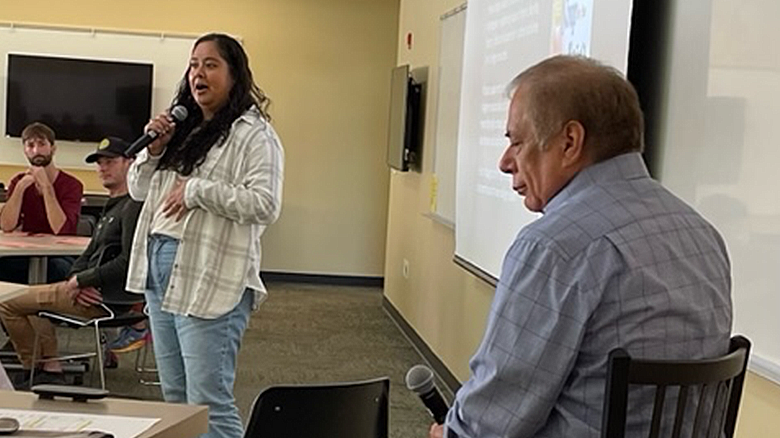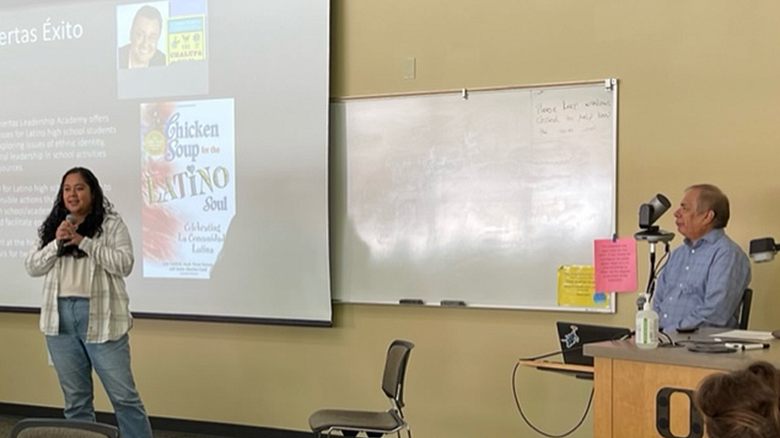 Jim Garcia (COE UOTeach Partner), is the Chicano/Latino Student Program Coordinator and Faculty Advisor, MEChA de LCC. He is also the Director, Puertas Abiertas Leadership Academy, Instructor, Chicano/Latino Leadership.
My partner, Janice Gonzalez-Valera, and my mentor Jim Garcia. Janice is a first gen college student who is currently completing her elementary teaching license, and Jim is well known in the Eugene Education Community.
Janice and Jim teaching a seminar to new teachers at the University of Oregon College of Education, November 2022.
---