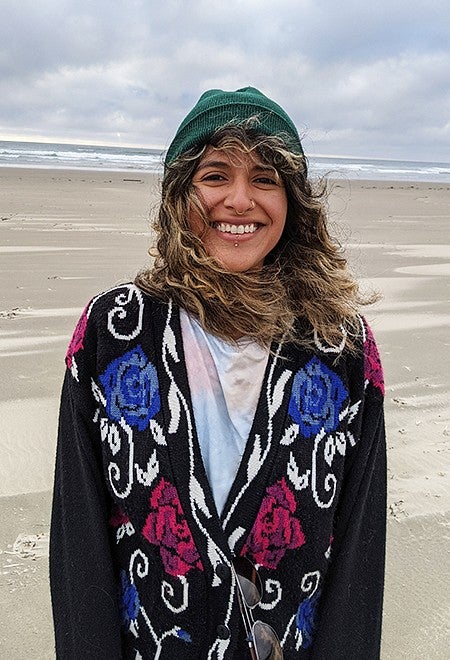 What have you learned during your time in the program that has helped shaped your future career goals?
Oh… so many things! I think first I'd like to preface my response by saying that my background prior to this program is not in education—I came from a humanities program, and that's something that I was really concerned about when applying. So, some of what I've learned has been contextual, learning to recognize and appreciate the reality of practitioners' roles within schools and the mechanics of our educational system in the United States. It's really cemented the idea for me that educational research cannot be effective when it's removed from the reality of those it impacts. As an aspiring researcher, the perspectives I've heard in this program have greatly shaped my desire to conduct research that is contextually-bound and which centers, values, and meaningfully includes students and educators.
Additionally, some of the most profound learning I've experienced has come from applying skills in new ways than I'd previously practiced: analysis, critical literacy, ethics, and rhetoric.
What are your career plans after completion of the program?
My career won't be kicking off quite yet. I am happy to report I was accepted into the Quantitative Research Methods in Education PhD program here at EMPL, so I'll be around for the next few years. After that, I plan to stay in academia, hoping to pursue a career in a research focused university.
Are there any faculty/staff that have been influential and helpful during your time in the program?
Absolutely! I've worked with Dr. Audrey Lucero through the past year helping to develop and launch a professional development course on Critical Literacy Pedagogy for K-8 teachers in Oregon. Beyond the fascinating work and great company, the opportunity to work with Dr. Lucero, who works within Education Studies, has helped open a door for me to envision my journey forward at UO with a more interdisciplinary focus. She's also a proponent of rest, and more generally makes me feel seen as a whole person, which has done wonders for me as a graduate student to find boundaries in work and to manage the imposter syndrome that often accompanies academic life.
Dr. Gina Biancarosa from the Special Education & Clinical Sciences program has also been influential, encouraging me to apply to a PhD program, which I may not have done otherwise. And, of course, my fantastic EMPL advisor Dr. Gerald Tindal (JT) who has also encouraged, created opportunities, and broken down large tasks into manageable pieces, as well as my new QRME advisor Dr. Ilana Umansky, who has welcomed me to the program with open arms. Truly, I have not met a single faculty or staff member who hasn't been helpful and impacted me in a positive way through my journey in this program.