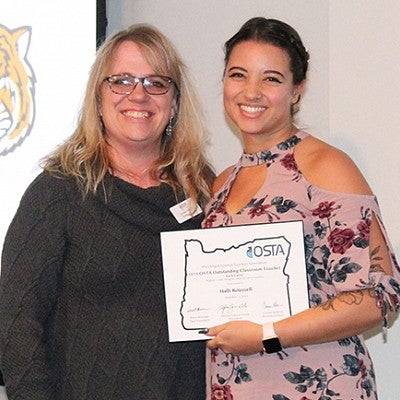 Halli Roussell, ESPRIT Scholar '19
After tutoring a biology course during her undergrad years, Halli fell in love with teaching and the process of building trust and relationships with students. The UOTeach program and the Noyce ESPRIT scholarship then provided her with the necessary support to make science accessible to all students through culturally responsive teaching practices. She learned to seek to understand students' needs first and was taught skills to get students, specifically marginalized communities, engaged in STEM fields. Having a strong education in trauma-informed teaching, equitable teaching practices, appropriate student accommodations and forming strong relationships in the classroom all aided Halli in her transition to distance learning. No one was prepared for the abrupt change to distance learning, but the important advice and skills she obtained through UOTeach and ESPRIT helped her immensely.
Halli credits Sarah Stapleton as "hugely influential in my process of reimagining what science education," Abby Lane's class for the skills learned to "consider, engage, and reach all students regardless of language or cultural barriers quite literally colored my entire teaching style," and Julie Heffernan's course on homophobia in schools for teaching her "to hold safer spaces in my classroom, to hold students' mental and emotional health in the highest regard, and to reflect on many of the aspects of my own education growing up and the ways the education system served or failed me, in order to better advocate for all students." She is thankful for the support the College of Education and UOTeach has given her that led her to a great job at Lincoln Middle School in Cottage Grove, Oregon.
UO Experiencing Science Practices through Research to Inspire Teaching (ESPRIT) 
Oregon Science Teachers Association 2019 Region 3 Outstanding Science Teaching Award