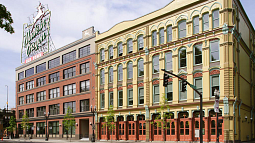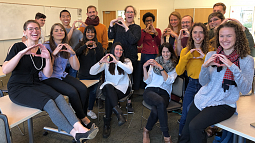 ---
Hey Portlanders!
Starting in Fall 2023, you can complete the UO Prevention Science MEd degree while living in the greater Portland area. This exciting option within our MEd program suits the needs of a diverse urban community, while maintaining the strong rigor, content, and hands-on training that students experience at the UO campus in Eugene. Students get to work closely with world-renowned faculty in areas such as behavioral and biobehavioral health, human development, social justice, translational science and nonprofit leadership. ​​​​​
Program Fast Facts
Program duration: The MEd degree is typically completed in 9 months (late Sept – mid June). Students can also choose to do this degree part-time and complete it over a 2-3-year period.
Class location and time: The Portland-based program will offer evening and weekend classes at the downtown White Stag Building, as well as online class options to suit the needs of an urban community. 
Class size: Class sizes can range from 15-40 students.
Application deadline: Applications for Fall 2023 will open January 1, 2023 and will be accepted on a rolling basis until July 31, 2023.
---
---
Prevention Science: A New Pipeline to Education in Human Service and Health-Oriented Careers
The Prevention Science MEd program is right for individuals looking for a career promoting the health and well-being of individuals, families, and communities. This degree program is designed to provide training in the design, evaluation, and delivery of interventions aimed at reducing risk and enhancing protective factors in children, youth, and families, and building resilient communities. 
Launched in 2016, our 1-year MEd degree program is one of a growing number of graduate programs in Prevention Science in the country. This strengths-based program is designed to produce culturally-competent prevention scientists capable of advancing healthy outcomes across diverse settings.
A Learning Model Tailored for Work-Life Balance
Our program combines the benefits of nontraditional learning formats with individualized instruction and mentoring. Students can live and work in the Portland area while getting world-class training in Prevention Science from UO faculty. The program is highly flexible and can be modified to best meet your needs in terms of coursework, duration, timing and location of classes.
Class Format
Our classes can be taken as face-to-face/in-person classes, hybrid classes, and fully online classes. Students can choose to do the entire program remotely or a combination of the above including in-person classes at the White Stag building in downtown Portland. The program and coursework can be tailored to meet your specific needs. Program faculty and staff are here to work with you to develop a plan that suits your needs.
---
Experiential Learning through Research and Externships 
Prevention Science faculty assist students in securing research and practice experiences that match their interests as well as future aspirations. Students gain a deeper understanding of the application of prevention science content and theories, as well as the skills and competencies necessary to deliver and evaluate evidence-based programming in research and community settings.
Research Opportunities 
Develop research collaborations with UO Prevention Science Faculty, who are experts in prevention of substance abuse and addictive behaviors, child maltreatment, intimate partner violence, obesity, mental health problems, and more. Prevention Science faculty members are highly productive scholars who value student mentoring and provide opportunities for students to develop research and applied skills, grant writing skills, attend and present at conferences, and publish in peer-reviewed journals.
Externships 
Students get opportunities to develop successful partnerships with local, national, and international organizations to disseminate effective programs into routine practice. Numerous opportunities are available in the Portland area to gain hands-on experience through externships in diverse settings, including high-impact research centers (e.g., Oregon Health & Science University (OHSU)), state and local government, healthcare, and nonprofit programs.
---
Alumni Outcomes
Graduates of the program typically obtain employment in community prevention settings, health departments, non-profit human service agencies, social advocacy centers, or university settings. Recent graduates, for instance, have obtained employment as Behavioral Health Specialists, Case Managers, Interventionists, Prevention Specialists, Program Managers, and Research Assistants.
Many of our graduates also choose to continue their graduate education in pursuit of doctoral training in the fields of Counseling Psychology, Couples & Family Therapy, Psychology, Prevention Science, School Psychology, Public Health, or Social Work, to name a few.
---
Want More Information?
Click HERE for more information about applying to the MEd program, degree requirements, courses offered, and funding,
---