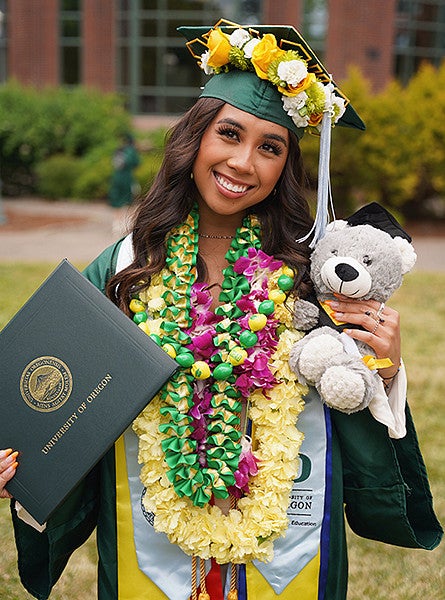 Learn more about Melodi Lagandaon, a student in the Communication Disorders and Sciences master's program
Quick Facts
Hometown: Riverside, California
Favorite books or movies: The Harry Potter series, Studio Ghibli films, and Romance Anime
Hobbies: cuddling with my cat, traveling, collecting vinyls, thrifting
Favorite place in Eugene: Autzen Stadium and HEDCO café
Why did you choose the CDS Program?
The University of Oregon Communication Disorders and Sciences (CDS) program gave me an opportunity to delve deeper into a field full of passionate leaders and inclusive/diverse communities. During my four years as an undergraduate student, I have built strong relationships with both professors and students who have motivated me to continue a higher education in Speech Pathology. Being surrounded by a growing environment of strong and selfless people has made me feel at home here at UO.
Why did you choose to pursue a career in the speech language pathology?
At a young age, I knew I wanted to help people but I just didn't know in which particular way that I wanted to. Seeing the impact that Speech Language Pathology has made for many people, including my younger sister and other loved ones, has inspired me to pursue this passion of care.
Speech Language Pathology allows people to be advocates and provide care for those in underserved and underrepresented communities. My goal is to create a safe and inclusive environment as a Speech-Language Pathologist.
What are you looking forward to most this academic year?
I am looking forward to being in the clinical setting with patients and supervisors. Building rapport with my new cohort and professors is very important to me. I value feedback and learning from others!
What are your future career aspirations?
In future, I want to become a school-based Speech Language Pathologist.
What impact do you hope to make in your future career?
I want to make an impact on families and children who are seeking for advocacy. Diversity and representation matters. As a first generation, Asian American, pursuing a career in Speech Language Pathology, I hope to build an environment that prioritizes inclusivity and safe practices. I will ensure that these people will be seen and heard.
---