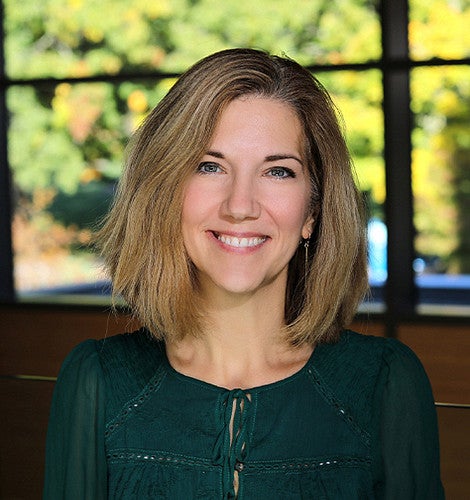 Learn more about Wendy Haley, PhD, Julie and Keith Thomson Faculty Chair, HEDCO Clinic Director and Professor, Counseling Psychology and Human Services, through our Faculty Spotlight series.
Hometown: Orlando, FL but I have lived in many places including Providence, Rhode Island for 17 years, Philadelphia, PA for 2, and Memphis, TN for 5 years.
Primary research interest: My research focuses on adolescent health and risk behaviors. I am interested in understanding how family and individual factors can influence adolescent engagement in health promoting behaviors. I am then interested in using this knowledge to develop and evaluate interventions targeting these factors. My current and prior work has focused on promoting adolescent emotion regulation and improving parent-child communication and parental monitoring. 
Favorite Book or Movie: So many to name. Sing unburied Sing, Room, To Kill a Mockingbird, An American Marriage, and Olive Kitteridge. I just recently finished Grit and am highly recommending it to others.
Hobbies: Working in my garden, hiking, mushroom hunting (now that I live in Oregon), and listening to true crime podcasts.
---
What brought you to the University of Oregon? 
Two primary things influenced my decision. First was the opportunity to be a part of the HEDCO Clinic and work within the donor's vision of expanding care to members of the UO campus (and now Oregon at large) while also training the next generation of providers in evidence-based practices, some of which were developed here on campus and within the COE. The second reason was the high quality and nationally recognized research related to improving children and adolescents' mental health with a particular focus on working with parents and parenting interventions. 
What is the focus of your current research?
My current research focuses on working to identify emotion regulation abilities in early adolescents and how these patterns might be related to decisions to engage in substance use. In addition, I'm also involved in three other large, longitudinal studies that are intervening on adolescent health behaviors and risk behaviors. The first is working with adolescents to help them learn how to better regulate their emotions and make healthier food and activity choices, the second is teaching parents and early adolescents how to manage their emotions and improve their relationship to prevent dating violence behaviors, and the third is developing a web-based program for middle schoolers to teach them how to manage emotions and make safer decisions around sexual and substance use behaviors.    
How do you hope your work makes an impact?
Across my work as both a researcher, clinical supervisor, and clinician I hope to help improve the lives of children and adolescents and bolster parent-child relationships. In line with lots of prior research, I believe that supporting and promoting these behaviors early-on will have a life-long impact for many of these families and youth.  
What message would you like to share with students considering coming to the College of Education?
I think that the College of Education is a special place that brings together faculty from diverse backgrounds and perspectives who all believe in doing something that matters and has a positive impact on both students coming through the programs and this community and future communities. As someone who has been focused on children and adolescents throughout my career, I value having colleagues with different perspectives on how to help children and that these varied perspectives enrich the discussion about how to best support children and families. 
What do you love about living in Eugene?
I love the easy access to nature and being surrounded by so much natural beauty. The lack of traffic is also a huge bonus. 
---