State of Oregon 1% for Art
The Percent for Art legislation, passed in 1975, guides the acquisition of Oregon's State Art Collection, which includes more than 2,500 original art works. Oregon was one of the first states in the nation to pass Percent for Art legislation, placing works of art in public spaces throughout the state.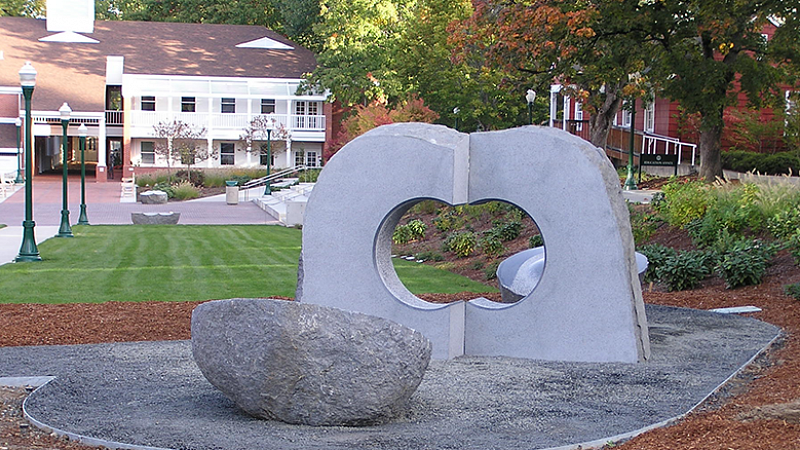 Carved natural granite boulders, 2009
Location: Kendall Plaza, lawn east of HEDCO education building, and entry to Clinical Services building
Masayuki Nagase began his career at the Academy of Fine Arts in Tokyo. In 1995, he became a U.S. resident and established a studio in Berkeley. His site-specific artwork for the college is metaphorical expression of a cycle of life.
---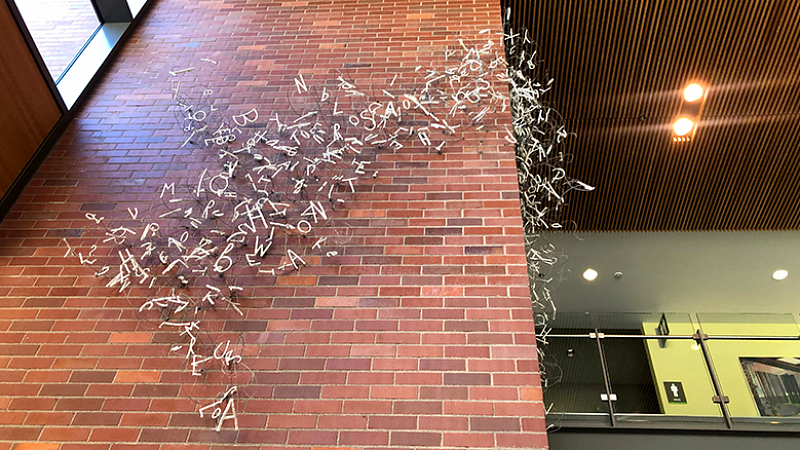 The Cloud of Disquiet: Stanza Second
Hand-formed, fired porcelain, glaze, 2009
Location: HEDCO education building, fireplace
"It is a cloud of letters, the building blocks of our language, amassing into the unpredictable beauty and curiosity of communication."
Abby Donovan is an assistant professor of art at the University of Delaware.
---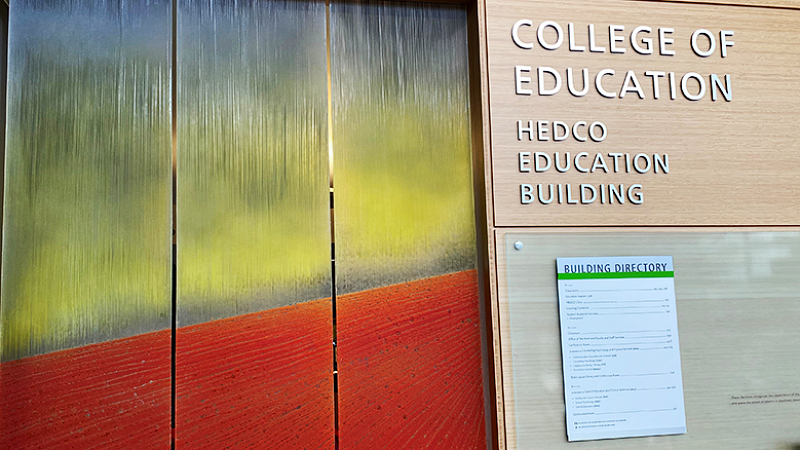 Kiln-formed glass panels, 2009
Location: HEDCO education building, lobby
"The programs housed in this facility resonate with my larger artistic intent, which is to make people aware of beauty in its many forms, to fi nd it not only where they might naturally look but also in places that they might otherwise miss or willfully avoid."
Ted Sawyer is a glass artist and director of research and education for Bullseye Glass, a Portland-based glass production, fabrication, and research facility.
---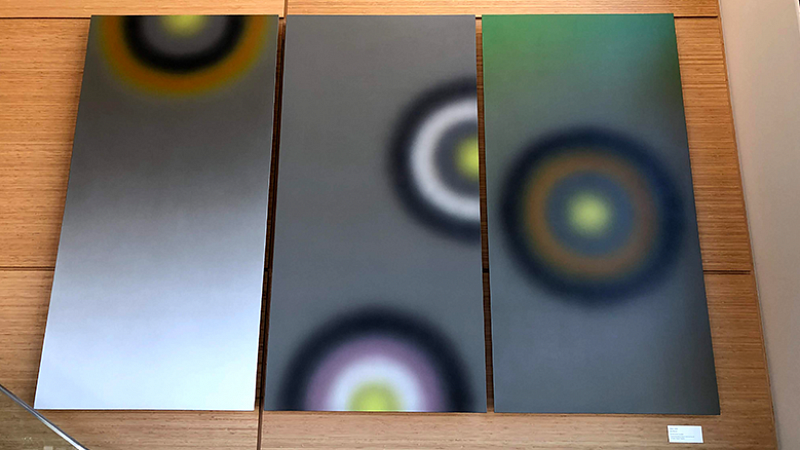 (Triptych) Oil and acrylic on panel, 2009
Location: HEDCO education building, lobby stairs
"I am now using color to express the literal vs. symbolic; the actual vs. remembered."
This piece was commissioned for the HEDCO building. Macca's work concerns the emotional and psychological connections we all make to colors.
---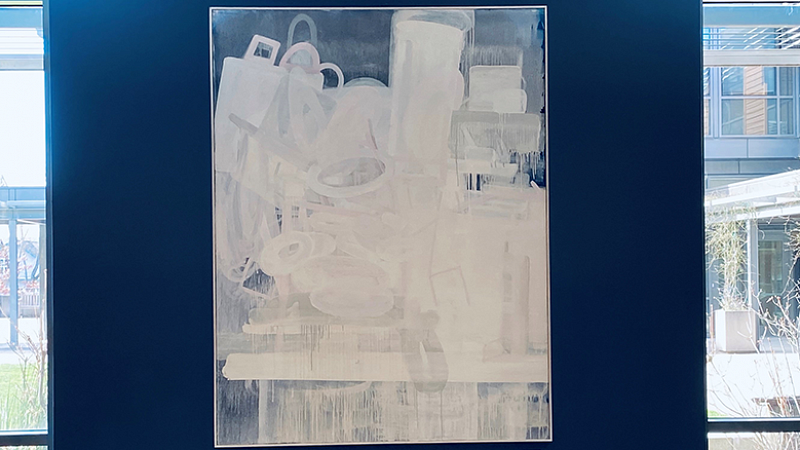 Dangerous Cakes
Glace, Oil on canvas, 2009
Location: HEDCO education building, Learning Commons
Artist: Jan Reaves
Jan Reaves received an MFA from University of Oregon in 1983. Her work has shown throughout the region and beyond. Reaves lived and worked in Eugene and is represented by Laura Russo Gallery, Portland.
---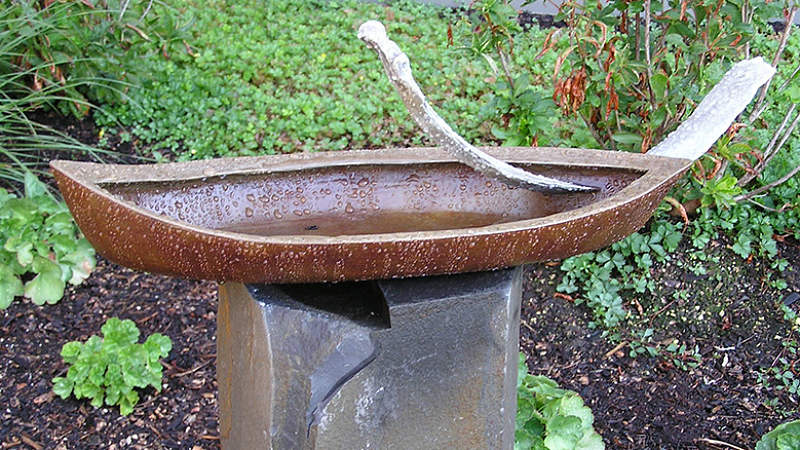 Life Dugout, Dive, Steerage, Raven Bowl, Pod Drift, Watersmeet
Cast bronze, patina, basalt, 2009
Location: HEDCO education building, Gretchen Anderson Pilip Courtyard
"Vessels or boats are expressive of journey. Their forms are pod-like suggesting nature's verdant growth. They fl oat. They shape and are shaped by water—life's principal ingredient. Combining bones and vessels becomes for me a Bone Journey, a symbol of our own journey through Nature and Time."
Morris graduated cum laude with a BA in philosophy from Pomona College. Her works have been exhibited widely on the West Coast, and she currently resides on Lummi Island, Washington.
---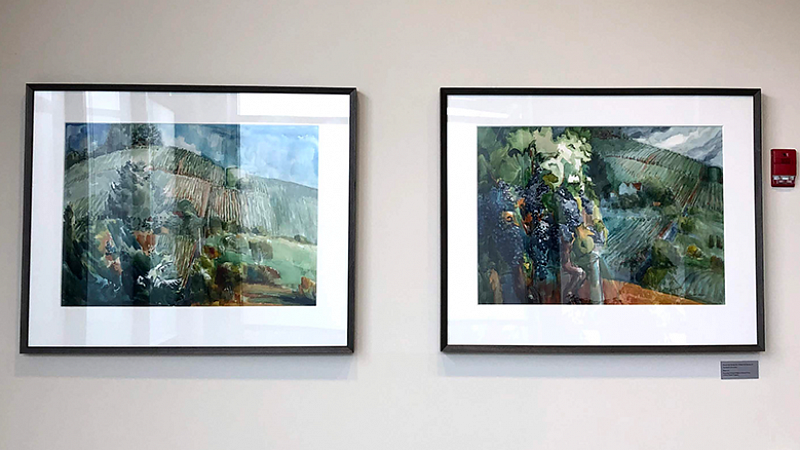 Watercolor, 2009
Location: HEDCO Clinic
Artist: Humberto Gonzalez
Humberto Gonzalez lives and paints near his favorite viewpoints of the Willamette Valley. Born in Tamaulipas, Mexico, his family later immigrated to Texas. Gonzales received an MA in secondary education in 1968. In 1971 he moved to Oregon to accept a teaching position at Lebanon Union High School where he taught Spanish, painting, and drawing until his retirement.
---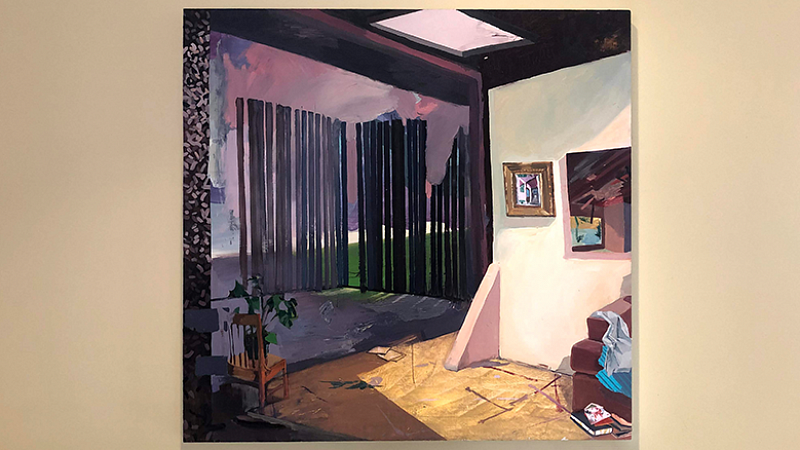 Wall Cloud
Oil on panel, 2009
Location: HEDCO education building, 2nd floor
Grant Hottle received an MFA in painting and drawing from the University of Oregon in 2007. He now lives and works in Portland.
---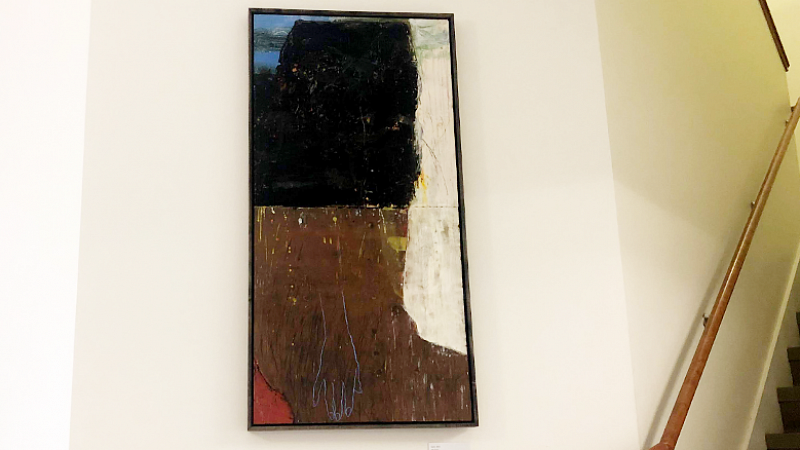 Earth
Encaustic on panel, 2004
Location: Lorry I. Lokey education building, hallyway stairwell
"I think I depend on landscape because it's direct and honest; it's larger than me and my fears. I use abstraction and pattern and symbols to gesture toward that landscape."
Jef Gunn is a painter and printmaker working in Portland. Gunn earned a BFA in painting from Marylhurst University.
---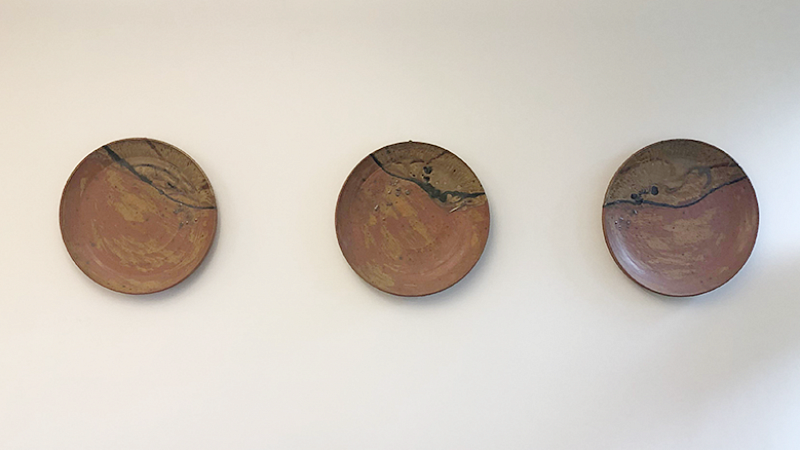 Stoneware, 1982
Location: Lorry I. Lokey education building, conference room
Artist: Geoffrey Dean Pagan
Geoffrey Pagan's ceramic work is included in major collections such as the Museum of Contemporary Craft, Portland, Oregon; Rhode Island School of Design, Providence, Rhode Island; and the City of Portland. He received an MFA in ceramics from Rhode Island School of Design.
---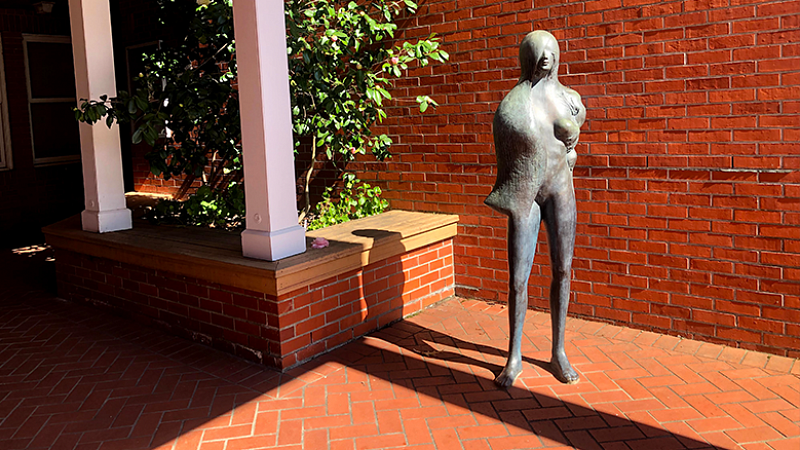 Cast bronze, 1982
Location: Lorry I. Lokey education building walkway
Artist: Don Eckland
"Emergence exhibits the attributes of confidence or self-assuredness and appears unencumbered. This young woman is poised at rest, just prior to departing. It would seem that she is indeed ready to emerge."
---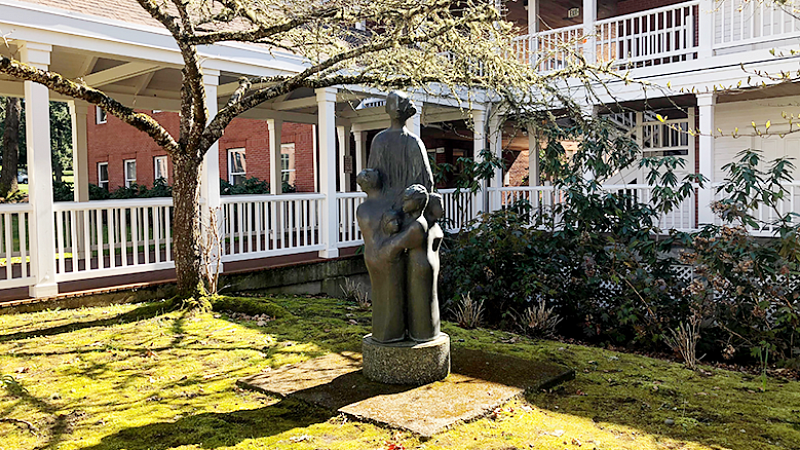 Cast bronze, 1982
Location: Lorry I. Lokey education building courtyard
Artist: Don Eckland
"It is my intention with this sculpture to present a multi-faceted work suggesting numerous relationships. There are those between the larger figure, which at once suggests in itself the past and the contemporary, and the several smaller figures with their interdependence. And there is the desire to seek out and explore with unsuredness in the smaller figures which clearly gain confidence and security from each other and the adult figure. In essence, I have attempted to suggest a relation­ship of education and guidance in seeking new horizons."
---
College of Education Private Collection 
The Robin Jaqua Collection
Location: HEDCO education building, Counseling Psychology and Human Services department, 2nd floor
The collection features objects that represent universal archetypal symbols. The art and other artifacts reflect the sources of inspiration found throughout time in all cultures—in art, world religions, mythology, psychology, and philosophy. This collection is part of Robin Jaqua's library of Jungian and archetypal psychology.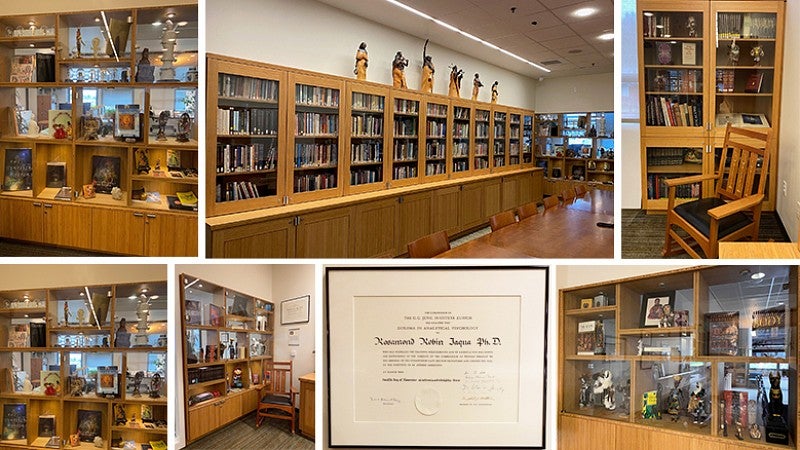 ---
Cows Nooning
Oil on canvas. 1893
Location: HEDCO Education building, Faculty and Staff Services, 2nd floor
Artist: Henry Singlewood Bisbing
Bisbing was educated at the Pennsylvania Academy of the Fine Arts. He spent the mid-1870s studying in Munich and Brussels, where he and like-minded artists painted rural scenes and pastoral imagery meant to remind people to slow down and live more simply as an antidote to the industrialization of modern life. Cows came to symbolize the healthier pace of a bygone time. Gift from Ann Swindells.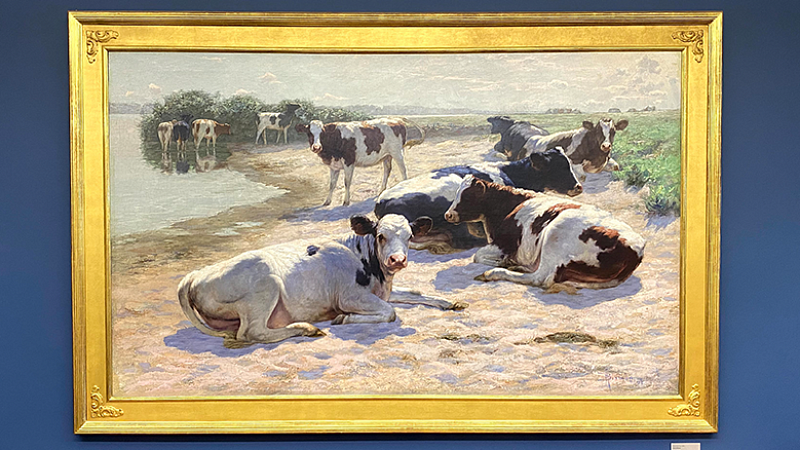 ---
Title Unknown
Oil on canvas
Location: Clinical Services building, Room 350
Architect Will Martin, who designed Portland's Pioneer Courthouse Square, was the principal architect of the 1980 Education Addition, now home to the Office of College Advancement, Behavioral Research and Teaching, and two classrooms. Gift from Bernd Crasemann, professor emeritus of physics.